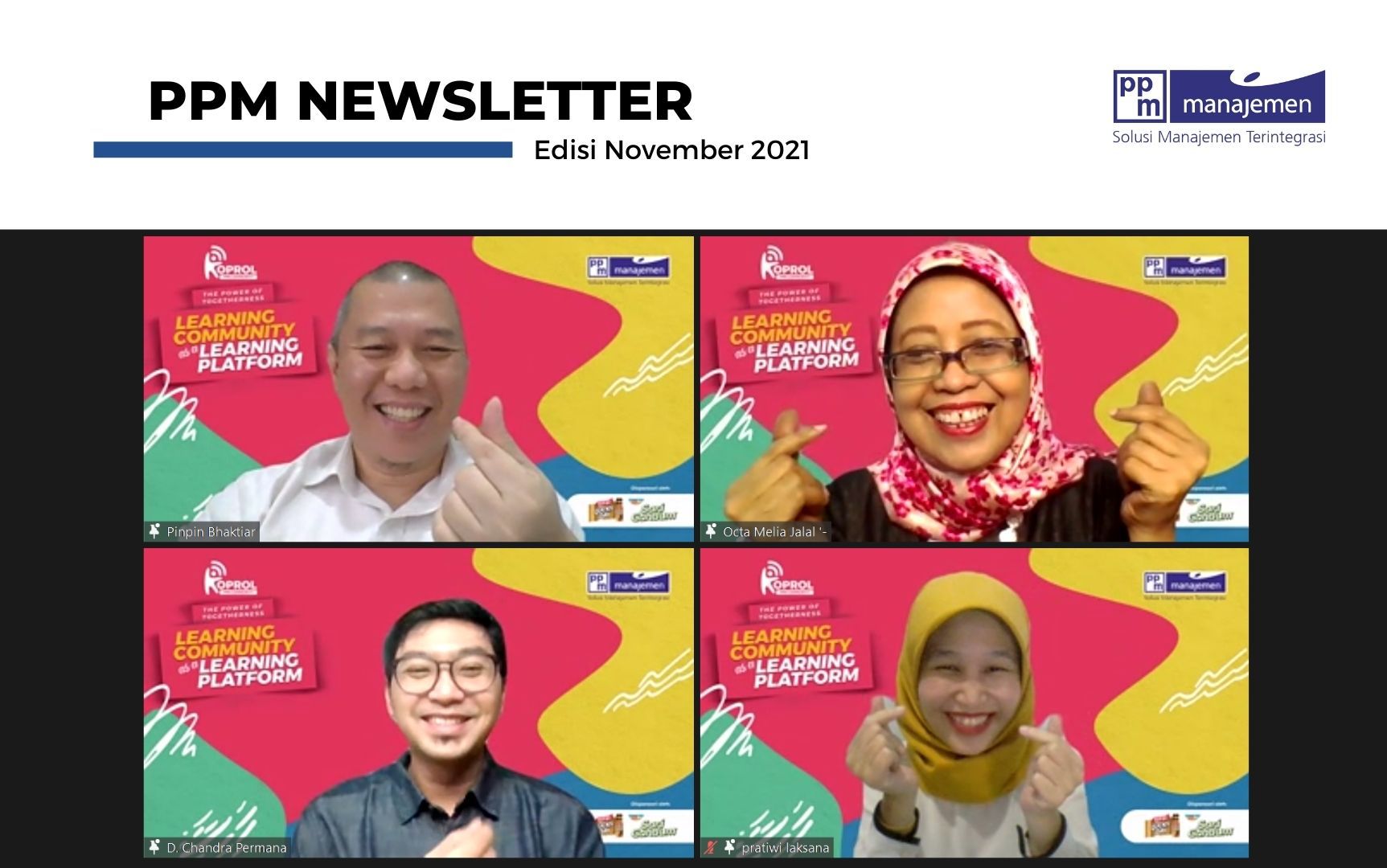 Mengembangkan Kompetensi Diri Melalui Learning Community
KOPROL PPM Community 2021
KOPROL (KOPI DARAT ONLINE) PPM Community digelar pada 20 November 2021, kali ini bertemakan "The Power of Togetherness: Learning Community as a Learning Platform", yang dikemas dalam bentuk talkshow dan membahas secara detail bagaimana pentingnya mengikuti komunitas yang dapat mengembangkan kompetensi masing-masing anggotanya secara bersama-sama.
KOPROL merupakan sebuah gelaran tahunan untuk PPM Community, para member dapat menjadikan acara ini sebagai wadah bercengkrama, berdiskusi, bertukar pikiran, mendapatkan insight perkembangan bisnis dan ilmu serta mengenal lebih dekat para membernya. PPM Community itu sendiri merupakan sebuah komunitas berisikan "alumni" forum diskusi online seputar ilmu manajemen, yaitu Pojok Pintar Manajemen yang rutin diselenggarakan sejak ruang gerak kita untuk belajar terbatas karena Pandemi Covid-19.
Triono Saputro, Direktur Eksekutif PPM Manajemen dalam sambutannya menyampaikan, PPM Manajemen sangat mengapresiasi para member yang mau bertumbuh bersama selama satu tahun lebih ini. Sekitar lebih dari 2000 orang tergabung dalam Telegram Grup dan tumbuh berkembang bersama dalam PPM Community. Komunitas tersebut menjadi wadah para membernya bertukar pikiran, mendapatkan insight perkembangan bisnis dan ilmu terkini. Bersama-sama belajar serta mengembangkan kapasitas dirinya masing-masing.
"Saat ini PPM Community aktivitasnya berjalan pada aplikasi Telegram, terdapat lima Telegram Grup, yaitu Human Capital Management (HCM) Community; Leadership and Talent Development (LTD) Community; Governance, Risk and Compliance (GRC) Community; Operational Excellence (OPEX) Community; dan Innovation (INV) Community." sambung Triono.
Learning Community merupakan sebuah grup untuk saling berdiskusi dan berbagi pengalaman serta ilmu pengetahuan terhadap suatu ketertarikan dalam hal yang sama (disepakati bersama). Bentuk dari Learning Community dapat berupa model, budaya, lingkungan ataupun alat yang menunjang komunikasi dua arah dengan menjadi sistem pendukung yang baik sehingga dapat memperkaya kualitas pembelajaran setiap individu.
Koprol tahun ini menghadirkan narasumber, Pinpin Bhaktiar – Founder ECI Network; D. Chandra Permana – Praktisi & Profesional di Pasar Modal dan Member PPM Community GRC; dan Octa Melia Jalal – Konsultan PPM Manajemen.
Acara juga dimeriahkan dengan pengumuman pemenang lomba cerita yang sebelumnya diselenggarakan secara online, kontes artikel ini merupakan salah satu acara yang khusus diadakan untuk PPM Community dalam rangka mengenal "Learning Community".
Triono Saputro juga berharap, para Member PPM Community dapat mengetahui bahwa mereka termasuk dalam "Learning Community" dan dengan bergabung di PPM Community dapat meningkatkan kompetensi dalam ilmu manajemen dan bidang peminatannya. Member juga diharapkan selalu aktif untuk saling berbagi mengenai ilmu-ilmu terkini kepada para member yang lain. Sebab, hal ini sebagai upaya meningkatkan kemampuan individu agar lebih berkualitas dalam menghadapi perkembangan yang dapat dilakukan dengan proses mengeluarkan, memperkuat, menciptakan, mengadaptasikan, dan memelihara minat dan bakat yang ada di dalam dirinya. Tentunya, hal tersebut dapat dibantu dengan lingkungan yang mendukung.