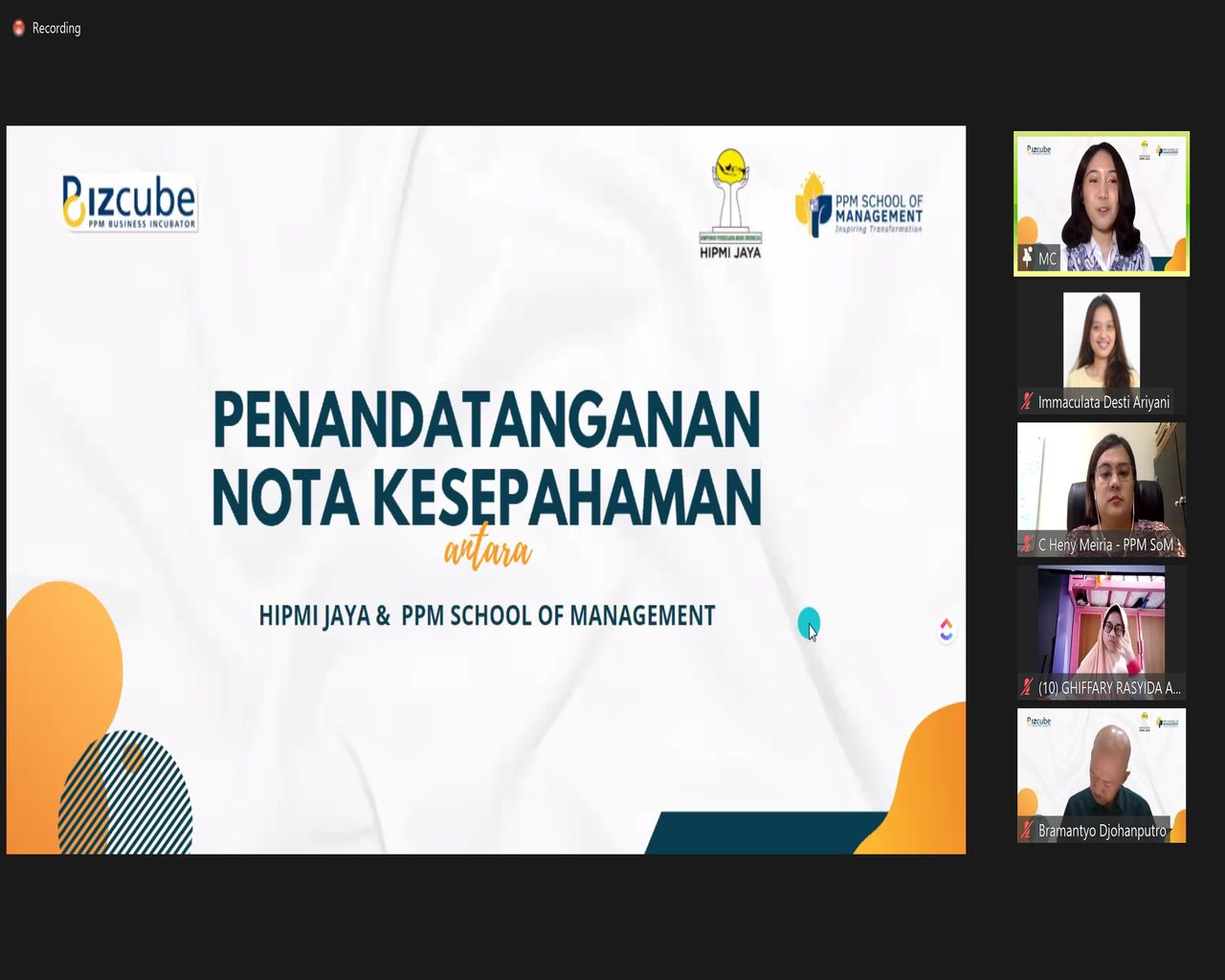 Penandatanganan Nota Kesepahaman PPM School of Management dengan HIPMI Jaya
Jakarta, 30 November 2021, Bizcube PPM School of Management kembali menyelenggarakan Pojok Preneur Muda. Pojok Preneur yang sudah menginjak episode 6 ini berbeda dari biasanya. Tidak hanya berisikan webinar, pada kali ini Pojok Preneur Muda juga sekaligus berisi seremonial penandatanganan nota kesepahaman antara PPM School of Management dengan HIPMI Jaya. Penandatanganan virtual ini diwakili oleh Prof. Bramantyo Djohanputro selaku Ketua Sekolah Tinggi PPM dan Sona Maesana selaku ketua HIPMI Jaya.
"Semoga kerja sama ini tidak hanya mendukung HIPMI Jaya secara khusus namun seluruh HIPMI secara umum di Indonesia." Ucap Prof. Bram dalam sambutannya.
Semangat ini senada dengan tujuan didirikannya Bizcube sebagai usaha mendatangkan entrepreneur muda dari dunia kampus. Dari sisi PPM SoM sendiri, Bizcube ini menjadi penting, walau belum memiliki mata kuliah khusus mengenai Entrepreneurship tapi sudah berhasil mencetak lulusan-lulusan yang bergerak sebagai pengusaha muda di berbagai bidang. Dengan tren historikal ini, Bizcube bergerak sebagai wadah inkubasi yang menaungi bibit-bibit pengusaha muda agar semakin siap dan agresif secara bisnis. Tidak hanya sekadar memiliki mata kuliah entrepreneurship namun menjadi program menyeluruh yang secara khusus membangun dan mempersiapkan entrepreneur.
"Melalui kerja sama ini, harapannya perusahaan-perusahaan di bawah HIPMI Jaya juga mau terlibat untuk menjadi tempat praktik dan partner dalam Merdeka Belajar Kampus Merdeka." Tambah Prof. Bram.
Hal serupa juga diucapkan oleh Sona Maesana. Ia menyambut baik kerja sama yang mendorong pengembangan ekosistem bisnis dan semangat kewirausahaan ini. "Hal ini juga sejalan dengan tujuan pendirian HIPMI yang ingin mendorong peningkatan jumlah pengusaha muda." ucap Sona.
Sona merasa dengan bentuk kerja sama ini bisa mendukung masa depan dan juga karir mahasiswa sebagai pengusaha. Karena selain secara formal terstruktur dan terjalin dalam kurikulum, juga mendorong dan membimbing praktik dan semangat mahasiswa untuk menjalankan ide bisnis yang dimiliki. Sona menambahkan bahwa bentuk pendampingan seperti ini menjadi penting karena mendukung terciptanya pengusaha by design. Hal ini penting untuk dimiliki para pebisnis muda, karena berbisnis bukan hanya faktor 'nasib' dan 'beruntung' namun bagaimana mengeskalasi peluang dan potensi usaha.
Selain penandatanganan nota kesepahaman, terdapat juga seri webinar bersama Rachmat Anggara, Co-Founder Qasir.id dan HIPMI Jaya bidang 6 dengan judul bahasan "Building Start-up: Turning Your Idea Into Action".