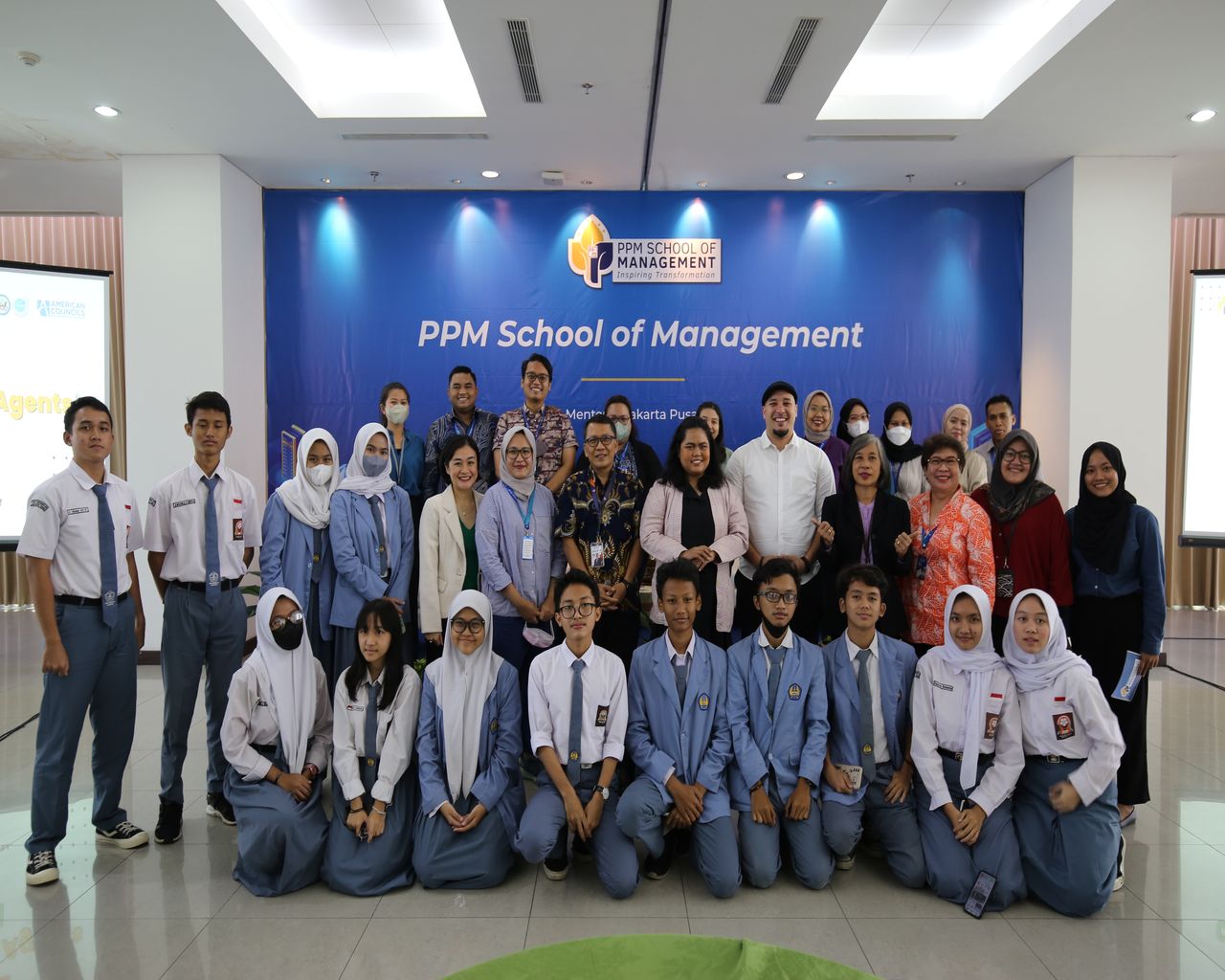 PPM School of Management Bedah 'DEI' untuk Wujudkan Agen Inklusif di Sekolah
PPM School of Management (PPM SoM) menggelar seminar dan workshop Diversity, Equality dan Inclusive (DEI) Roadshow: Creating Inclusive Agent from School di ruang AM Kadarman lt. 2 Gedung Bina Manajemen B, Senin (13/3/2023).
DEI Road Show menghadirkan pembicara Co-founder @feministhemis – Nissi Taruli F Naibaho; Director of Youth Development MyBlockMyHoodMyCity Chicago, Amerika Serikat (AS) – Nathaniel Viets-VanLear; Vice Dean of Academic Affairs PPM SoM – Dr Eva Hotnaidah Saragih; dan Teacher, Coordinator for Diversity at Canisius College – Henrikus Suparjono serta dimoderatori oleh Nina Ivana Satmaka – PPM School of Management.
Diversity, Equality and Inklusive (DEI) merupakan konsep keanekaragaman, kesetaraan dan inklusi dalam ilmu pengetahuan yang diartikan untuk menggambarkan program dan kebijakan demi mendorong keterwakilan dan partisipasi berbagai kelompok orang.
Termasuk orang-orang dari berbagai jenis kelamin, ras dan etnis, kemampuan dan kecacatan, agama, budaya, usia, dan seksualitas. PPM School of Management (SoM) berbagi pengetahuan kepada generasi penerus dalam gelaran Program DEI Roadshow 2023 yang dikelola oleh kelompok mahasiswa dan dosen.
Social Entrepreneurship Lecturer from PPM School of Management Anggun Pesona Intan, menjelaskan, seminar dan workshop yang digelar PPM SoM ini diperuntukan bagi anak-anak usia sekolah SMA di Jakarta yang bertujuan untuk memberikan awareness yang sama kepada anak-anak muda yaitu anak-anak SMA.
Seperti diketahui, inklusivitas mengartikan bahwa semua orang memiliki kesempatan yang sama dalam hal akses terhadap layanan dan fasilitas, serta hak dan perlindungan yang sama dalam masyarakat.
Sayangnya, di Indonesia masih terdapat isu terkait inklusivitas yang menjadi perhatian, seperti aksesibilitas, kesenjangan sosial dan ekonomi, kurangnya perhatian terhadap hak-hak perempuan, dan diskriminasi.
"Menurut kami, sangat penting jika banyak orang khususnya anak-anak sekolah mengetahui tentang DEI ini. Baik untuk mereka jika memiliki mental untuk bisa hidup berdampingan dengan orang-orang yang berbeda dari mereka, dan bagaimana mereka menghargai penyandang disabilitas," ujar Anggun.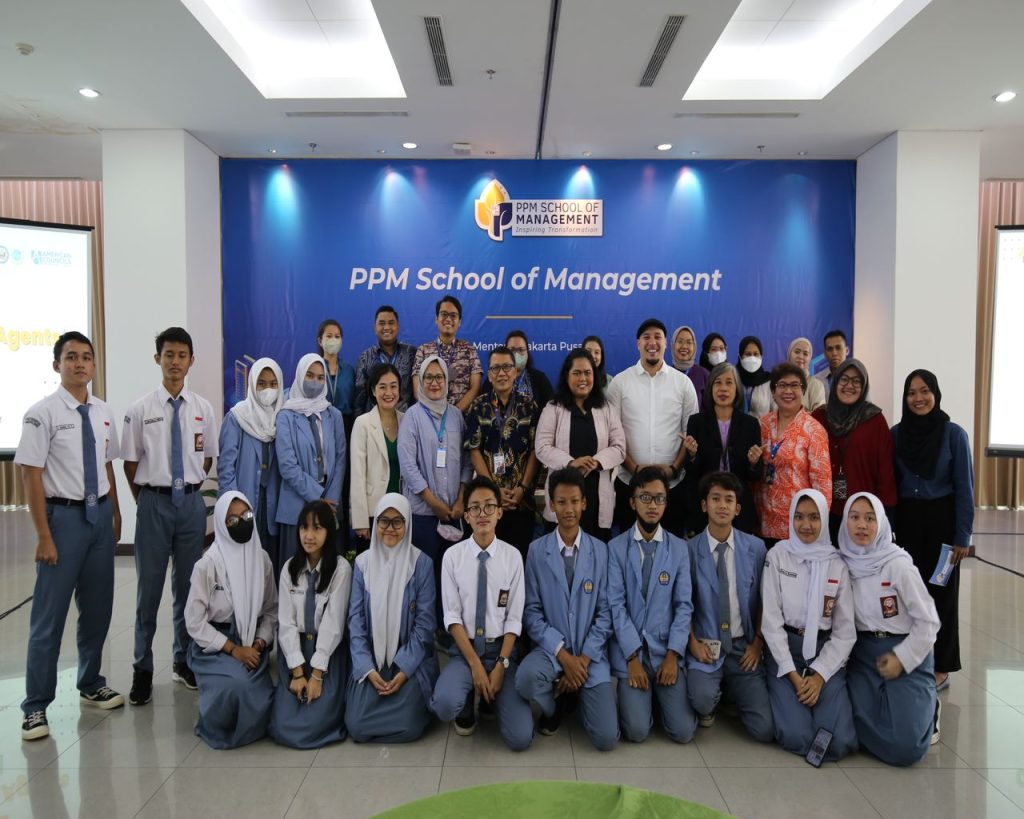 Dalam kesempatan yang sama, Founder of FeminisThemis (komunitas feminis Tuli), Nissi Taruli F. Naibaho, juga menceritakan tentang keluhannya selama ini untuk mendapatkan kesetaraan yang baik. Ia mengatakan bahwa masih banyak orang-orang di sekitarnya masih meremehkan dirinya dan hanya memandang sebelah mata.
"Sebagai orang tuli, saya menghadapi banyak sekali tantangan dari lingkungan, salah satunya beberapa orang sering meremehkan saya. Mengatakan hal-hal yang bisa dikatakan sebagai bentuk dari diskriminasi. Sangat disayangkan, Indonesia masih kurang pengetahuan tentang adanya isu inklusivitas ini. Saya senang jika PPM School of Management memperhatikan isu ini," kata Nissi Taruli, diartikan oleh juru bahasa isyarat.
Sementara itu, Nathaniel Viets-VanLear Director of Youth Development MyBlockMyHoodMyCity, menyampaikan inklusivitas adalah hal tepat di seluruh dunia, di Chicago atau di Jakarta. Dirinya juga menegaskan, semua orang masih berjuang untuk menemukan cara baru untuk berinovasi, bagaimana mengundang orang ke satu meja, terutama anak muda.
"Saya pikir di Chicago banyak orang suka abaikan, bahwa inklusivitas adalah masalah keragaman untuk memisahkan orang dan untuk membatasi kesempatan. Di sisi barat daya Chicago yang berada di lingkungan yang sangat miskin. Di mana ada banyak pengangguran, ada kekurangan sumber daya dan banyak anak muda tidak pernah meninggalkan jalan di mana mereka dilahirkan. Mereka hidup dan mati di jalan yang sama," ungkap Nathan.
"Jadi kami mencoba mengubahnya dengan membuka peluang baru bagi kaum muda. Dan saya pikir mereka juga harus banyak belajar dari kaum muda di sini. Jadi saya pikir semakin banyak yang saya lakukan dalam pekerjaan, semakin saya menyadari masalah yang kita hadapi di seluruh dunia sangat mirip. Dan jawabannya adalah berinvestasi pada kaum muda sejak dini," lanjut pria yang berasal dari Chicago Amerika Serikat ini.
Menurut Anggun, untuk tingkat SMA ternyata mungkin isu ini belum banyak terpapar. Dia juga menggaris bawahi, untuk beberapa sekolah yang biasanya seragam atau lebih. Sehingga isu DEI belum terlalu banyak terpapar, atau terbiasa di lingkungan yang sangat beragam yang bukan cuma ngomongin agama yang berbeda, tetapi juga suku.
Anggun mengungkapkan, di isu DEI sejatinya telah diterapkan dalam lingkungan PPM SoM. PPM sendiri menurutnya sudah menerapkan bukan hanya dalam bentuk seminar saja, tetapi dalam hal merekrut mahasiswa pihaknya membuat program-program untuk mahasiswa, memberikan beasiswa untuk mahasiswa dan itu selalu menggunakan prinsip DEI.

"Jadi yang paling bisa membawa banyak warna buat PPM. Jadi sebenarnya untuk di DEI, PPM sudah melakukan itu. Nah untuk kedepannya seminar-seminar ini sebenarnya hanya satu rangkaian seminar, karena sisanya itu semua sudah include di kurikulum kami melalui berbagai macam program," tambahnya.