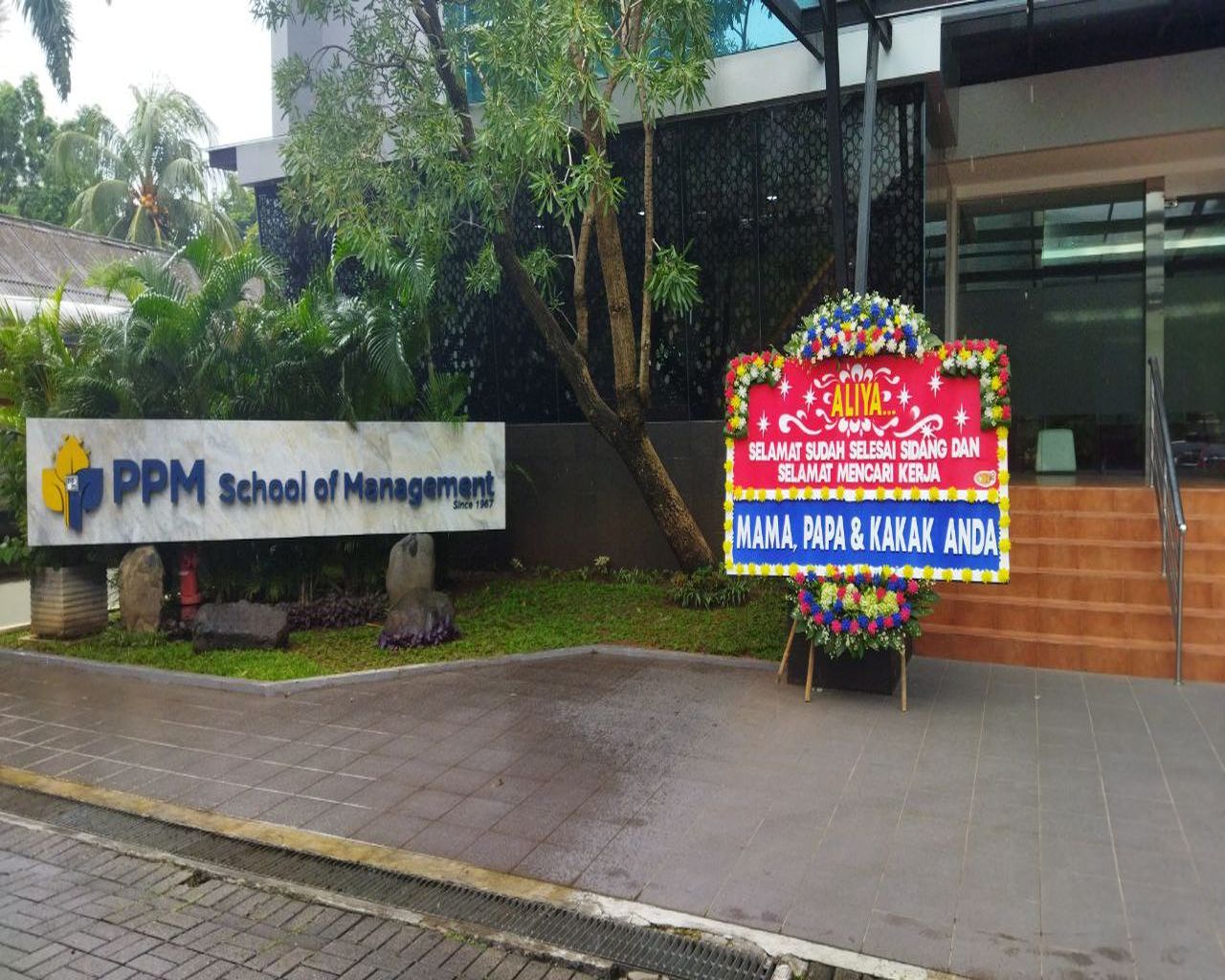 Aliya, Lulusan PPM School of Management Siap Terjun ke Dunia Kerja
Sidang skripsi, menjadi "raja" terakhir bagi mahasiswa untuk memperoleh gelar sarjana setelah beberapa tahun menjalani masa kuliah. Dalam menyelesaikan skripsi, tentu saja keluarga juga memiliki peran yang sangat penting, maka lumrahnya dalam kata pengantar selalu ada deretan nama keluarga di dalamnya sebagai bentuk ucapan terima kasih dari sang penyusun skripsi.
Keluarga memang memiliki peran penting dalam proses edukasi untuk mendukung seseorang melewati berbagai macam tahapan pendidikan. Semangat dari keluarga tentu memberikan optimisme sehingga bisa memberikan motivasi.
Lihat saja Aliya, salah satu Mahasiswi dari PPM School of Management yang mendapatkan karangan bunga dari mama, papa dan juga kakaknya. Bukan hanya ucapan selamat karena telah menyelesaikan skripsinya, namun juga ucapan selamat mencari kerja.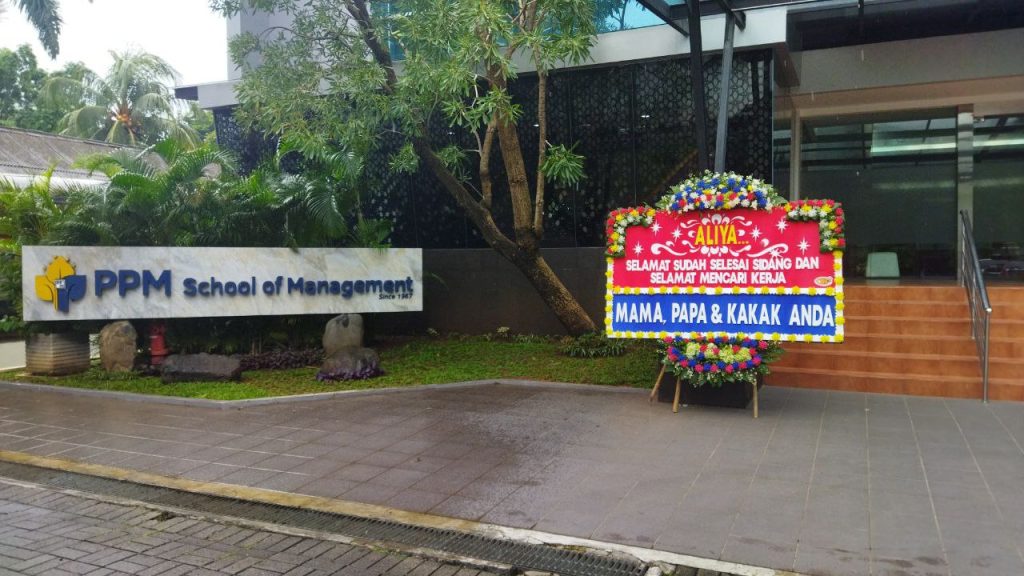 Setelah melewati jalan berliku dalam menyelesaikan skripsi, level ini tentu bukanlah garis akhir yang sesungguhnya. Justru ini merupakan sebuah awal, babak baru dari seseorang untuk menuju tahapan selanjutnya, dunia kerja. Dunia yang sangat berbeda dengan dunia Pendidikan, baik itu dinamikanya pun lika-likunya. Untuk bisa ke tahap bekerja, kesiapan kerja menjadi penting untuk diperhatikan.
Menurut Caballero dan Walker, kesiapan kerja dimaknai sebagai sikap, keterampilan dan pengetahuan yang dimiliki individu sehingga dirinya menjadi siap untuk bekerja. Kesiapan kerja tersebut merupakan penanda potensi individu yang bersangkutan untuk nantinya memiliki performa kerja dan pengembangan karir secara jangka Panjang.
Pada lulusan sekolah tinggi atau universitas, kesiapan kerja ini merupakan faktor yang signifikan dalam memprediksi apakah seseorang berpeluang untuk mendapatkan pekerjaan. Berangkat dari sana, tentunya perlu dilihat dan dipikirkan kembali mengenai apa yang mesti dilakukan untuk memastikan agar individu siap kerja.
PPM School of Management yang merupakan pelopor sekolah manajemen bisnis pertama di Indonesia sejak tahun 1967 dan saat ini merupakan salah satu perguruan tinggi terbaik dari 2510 sekolah tinggi di Indonesia dengan akreditasi A dari BAN-PT tentu sudah menyiapkan berbagai program unggulan agar lulusannya menjadi angkatan yang siap kerja.
Berikut tiga keunggulan kurikulum di PPM School of Management. Pertama, Integrated Curriculum, mata kuliah pilihan yang terintegrasi satu sama lain seperti Marketing, Operations, Human Resource, dan Finance. Mata kuliah pilihan yang disajikan saling terintegrasi antara teori dan praktik.
Keunggulan yang kedua, Incubator & Simulation Business Method, Program Sarjana Manajemen Bisnis (SMB) memiliki Inkubator Bisnis sebagai sarana pelatihan mahasiswa dan metode simulasi bisnis untuk melatih mahasiswa dalam membangun sebuah usaha secara nyata. Mata kuliah ini digunakan oleh mahasiswa untuk memperoleh pengalaman bisnis di dunia kerja.
Mata kuliah ini sengaja di desain layaknya sebuah laboratorium bagi mahasiswa untuk melakukan simulasi dan mempraktikkan seluruh ilmu manajemen bisnis yang sudah dipelajari sebelumnya. Para mahasiswa juga akan mendapatkan pendampingan langsung dari mentor-mentor bisnis yang akan memberikan evaluasi dari praktik bisnis yang dijalankan. Program ini juga bisa melatih mahasiswa dalam keahlian manajemen dan etika bisnis secara luas di dunia kerja nantinya.
Keunggulan yang ketiga, Final Examination, memiliki 2 pilihan tugas akhir, Skripsi atau Business Plan. Mahasiswa bisa memilih terkait tugas akhirnya, sehingga bisa membuat mahasiswa lebih dekat dengan dunia kerja. Tugas akhir business plan dibuat untuk mempersiapkan mahasiswa benar-benar siap menghadapi dunia kerja maupun bisnis begitu lulus kuliah.
Hal lain yang juga membuat PPM School of Management berbeda dibandingkan dengan kampus-kampus lain adalah adanya pendampingan soft skill development yang terintegrasi dengan kurikulum hingga berbagai kesempatan program pertukaran pelajar di berbagai negara Asia hingga Eropa.
Jadi, mama, papa, kakak, tak perlu khawatir dengan Aliya, sebab PPM School of Management sudah menyiapkan Aliya dengan baik untuk terjun ke dunia kerja!