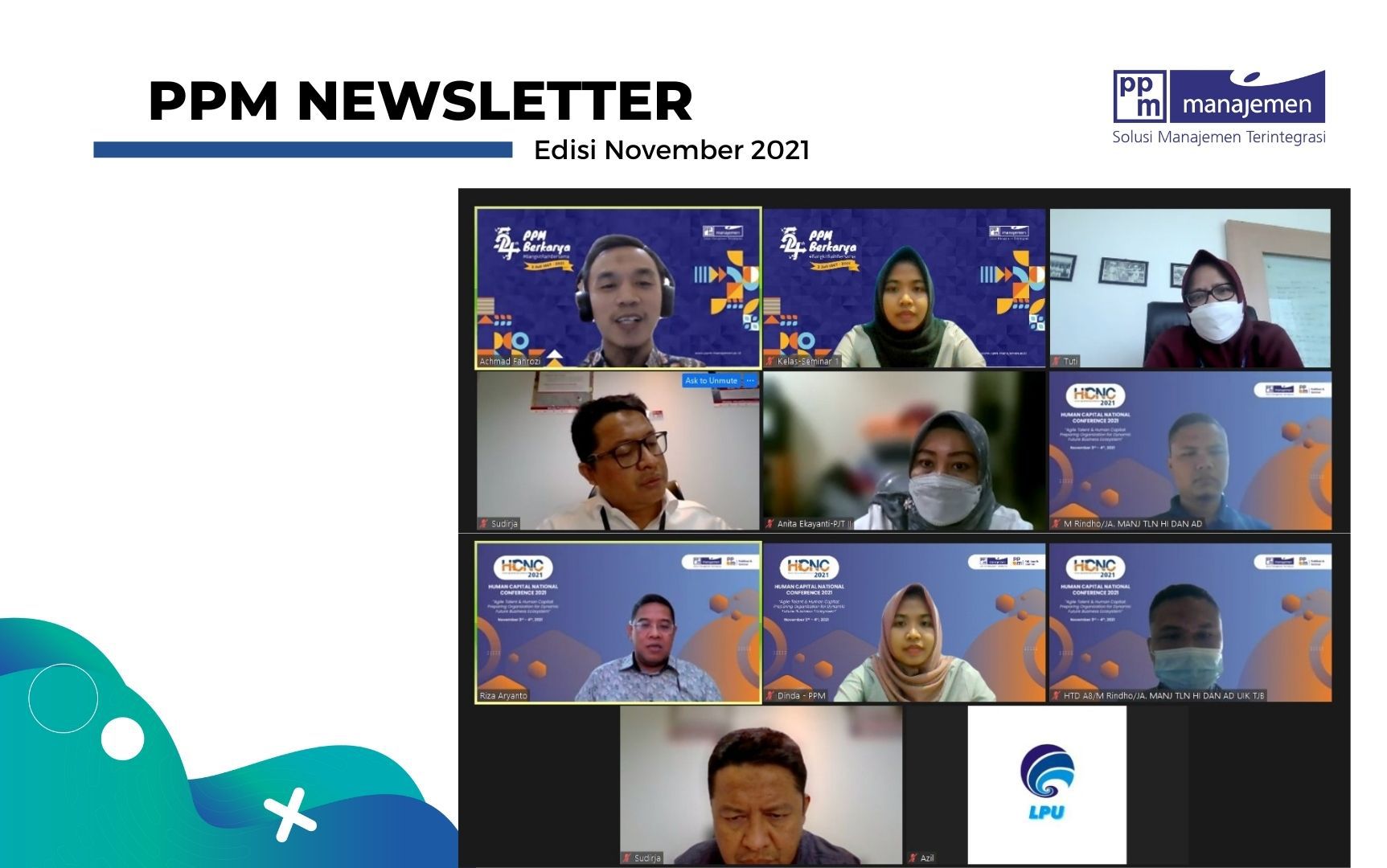 Masih dalam rangkaian kegiatan Human Capital National Conference (HCNC) yang diselenggarakan pada 3–4 November 2021. PPM Manajemen juga mengadakan Mini Workshop dalam tajuk Agile Leadership: Techniques To Build High Performance Team, 17-18 November 2021.
Acara diselenggarakan melalui zoom meeting, menghadirkan pembicara Achmad Fahrozi selaku Kepala Departemen Leadership and Talent Development dan Riza Aryanto selaku Koordinator Center For Innovation Collaboration (CIC). Workshop ini sangat penting untuk diikuti oleh para pemimpin perusahaan pada setiap level.

Sebab melalui workshop ini, dikupas secara langsung tentang bagaimana menjadi pemimpin tangkas (agile) yang mampu merespons dan mengantisipasi perubahan yang terjadi sangat dinamis dan sukar diprediksi. Kehadiran pemimpin tangkas dapat menjamin perusahaan dapat terus bertahan dan bertumbuh selamanya. Salah satu faktor yang sangat krusial agar perusahaan dapat bergerak dengan tangkas adalah tersedianya sumber daya manusia yang tangkas, khususnya para pemimpin perusahaannya. Perusahaan dapat bergerak tangkas jika para pemimpinnya tangkas juga.

Pada workshop ini juga dibahas mengenai tantangan bisnis dan organisasi di Era VUCA, Pemahaman tentang pemimpin yang tangkas (Agile Leadership), Level kepemimpinan yang tangkas, Leadership Agility Compass, macam-macam kompetensi Agile leadership, dan bagaimana membangun High Performing Team.

Setelah mengikuti workshop ini, peserta diharapkan mampu mengembangkan pengetahuan, sikap, dan perilaku kepemimpinan yang tangkas (agile) dalam menghadapi lingkungan bisnis yang dinamis dan tidak pasti. Sehingga para pemimpin tangkas ini memiliki kemampuan untuk memimpin secara efektif dalam berbagai situasi perubahan yang cepat, dinamis dengan kompleksitas yang tinggi.

Ke depan, kecepatan perubahan akan terus meningkat. Sedangkan perubahan yang terjadi kuncinya ada pada ketangkasan atau kelincahan (agility) sumber daya manusianya. Perusahaan hanya mampu bersaing jika perusahaan menjadi tangkas (agile). Perusahaan yang tangkas adalah perusahaan yang mampu merespons dan mengantisipasi dengan cepat setiap perubahan kondisi eksternal yang terjadi. Saat ini, bukan perusahaan besar mengalahkan perusahaan kecil, namun perusahaan yang tangkas yang mampu mengalahkan perusahaan yang lambat.