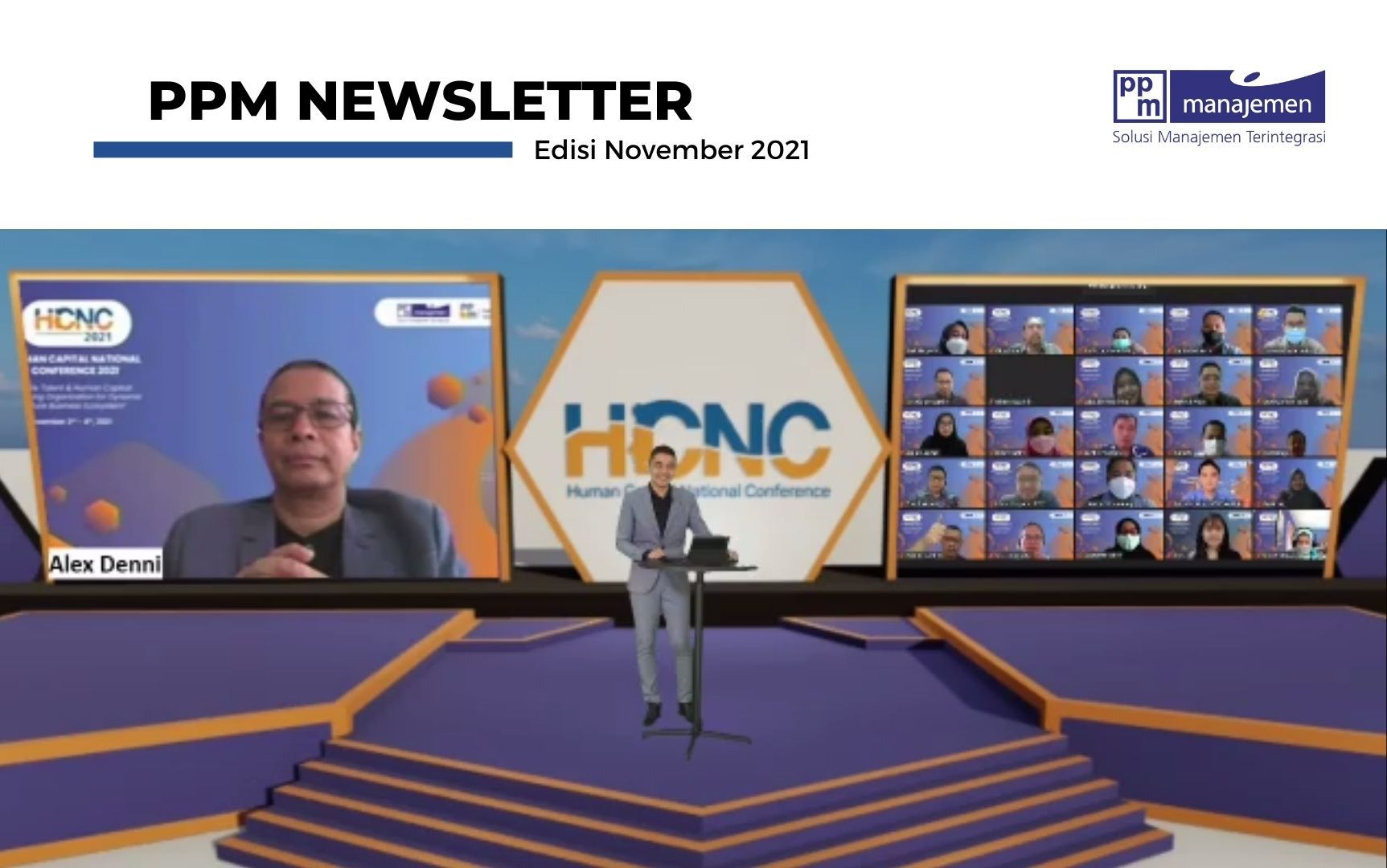 Human Capital National Conference (HCNC)
Forum Para Leader & Human Capital Professionals
PPM Manajemen kembali menggelar Human Capital National Conference (HCNC) pada 3 – 4 November 2021. HCNC pertama kali diselenggarakan tahun 2008 dan sejak itu menjadi rutin digelar sebagai bentuk kontribusi nyata PPM Manajemen untuk perkembangan Human Capital Indonesia. Tahun ini HCNC 2021 hadir dengan tema Agile Talent & Human Capital: Preparing Organization For Dynamic Future Business Ecosystem.
Setiap tahunnya, HCNC menyajikan hasil riset dari Center for Human Capital Development (CHCD), serta mendatangkan narasumber high profile. Mulai dari kalangan CEO perusahaan-perusahaan swasta dan BUMN, hingga dari kalangan pejabat pemerintahan untuk memberikan insight terkait tema yang diusung.
Didasari oleh respons terhadap kondisi Indonesia yang sudah menandatangani perjanjian Regional Comprehensive Economic Partnership (RCEP) bersama 15 negara lainnya, 10 negara ASEAN dan 5 mitra ASEAN yaitu Jepang, Korea Selatan, Tiongkok, Australia, dan Selandia Baru. RCEP sebagai perjanjian perdagangan terbesar di dunia di luar Organisasi Perdagangan Dunia (WTO) ini diperkirakan akan membawa banyak keuntungan di Indonesia. Di antaranya mendorong Indonesia lebih jauh ke dalam rantai pasok global (global supply chain), serta membuka lebar pasar ekspor-impor bagi perkembangan organisasi bisnis di Indonesia.
Triono Saputro, Direktur Eksekutif PPM Manajemen dalam sambutannya menyampaikan, "Menurut hasil riset terbaru tahun 2021 yang dilakukan oleh Center of Innovation and collaboration atau CIC PPM Manajemen, menunjukan bahwa salah satu aspek tertinggi menempati posisi pertama dan kedua yang harus ditingkatkan untuk menjadi keunggulan daya saing yang dimiliki oleh perusahaan adalah kompetensi SDM dan responsif terhadap perubahan atau agile".
Di sisi lain, mencari talenta unggul juga jadi tantangan tersendiri bagi sebuah organisasi bisnis. Pada kondisi yang serba terbatas ini, seorang leader di bidang human capital harus punya strategi agar bisa membangun sebuah tim dengan SDM yang agile dan bisa menangani banyak perubahan.
Perubahan pendekatan juga harus dilakukan sebagai salah satu cara untuk memastikan perlindungan bagi SDM yang ada dalam organisasi tersebut. Industri bisnis juga harus semakin gesit dan fleksibel bila tidak ingin tertinggal. Karena itulah, diperlukan adanya sumber daya manusia (SDM) yang juga tangguh, adaptif, dan gesit.
HCNC kali ini menggunakan metode gamification dan game-based webinar untuk meningkatkan interaksi audience-nya. Peserta yang hadir terintegrasi dengan ponselnya masing-masing melalui apps khusus yang dikembangkan PPM Manajemen untuk bermain gim saat HCNC berlangsung.
Para peserta yang terlibat dalam rangkaian acara juga dapat mengumpulkan poin dengan berpartisipasi melalui gim selama acara berlangsung. Dengan cara mengumpulkan poin, membuat para peserta menjadi lebih aktif untuk berkompetisi memenangkan hadiah. Lebih dari 150 partisipan hadir pada HCNC di setiap harinya. Terdapat 5 orang pemenang terpilih dengan poin terbesar, mendapatkan hadiah menarik dari PPM Manajemen.
Selain webinar, diselenggarakan pula dua workshop bertema "Cultivating Growth Mindset & Learning Agility" (9-11 November 2021), dan "Managing Virtual Remote Team" (30 November – 2 Desember 2021). Serta satu mini-workshop: Agile Leadership: Techniques to Build High Performance Team (17-18 November) yang menjadi bagian dari rangkaian HCNC sepanjang bulan November 2021."Setelah mengikuti kegiatan ini para peserta kami harapkan dapat memperoleh gambaran mengenai tren terbaru pengembangan talent dan Modal Insani perusahaan di Indonesia, lalu peserta dapat memperoleh wawasan implementasi, pendekatan baru, pengembangan modal insani yang agile di perusahaan dan organisasi, peserta juga diharapkan memahami peran Human Capital atau Modal Insani dalam mempersiapkan organisasi untuk ekosistem bisnis masa depan yang dinamis dengan teknologi platform sebagai basis bersinergi, selanjutnya dapat memahami bagaimana mengembangkan budaya organisasi khususnya agile leadership dan yang terakhir dapat memahami pemanfaatan secara efektif teknologi terbaru dalam pengembangan Modal Insani yang agile." tutup Triono.