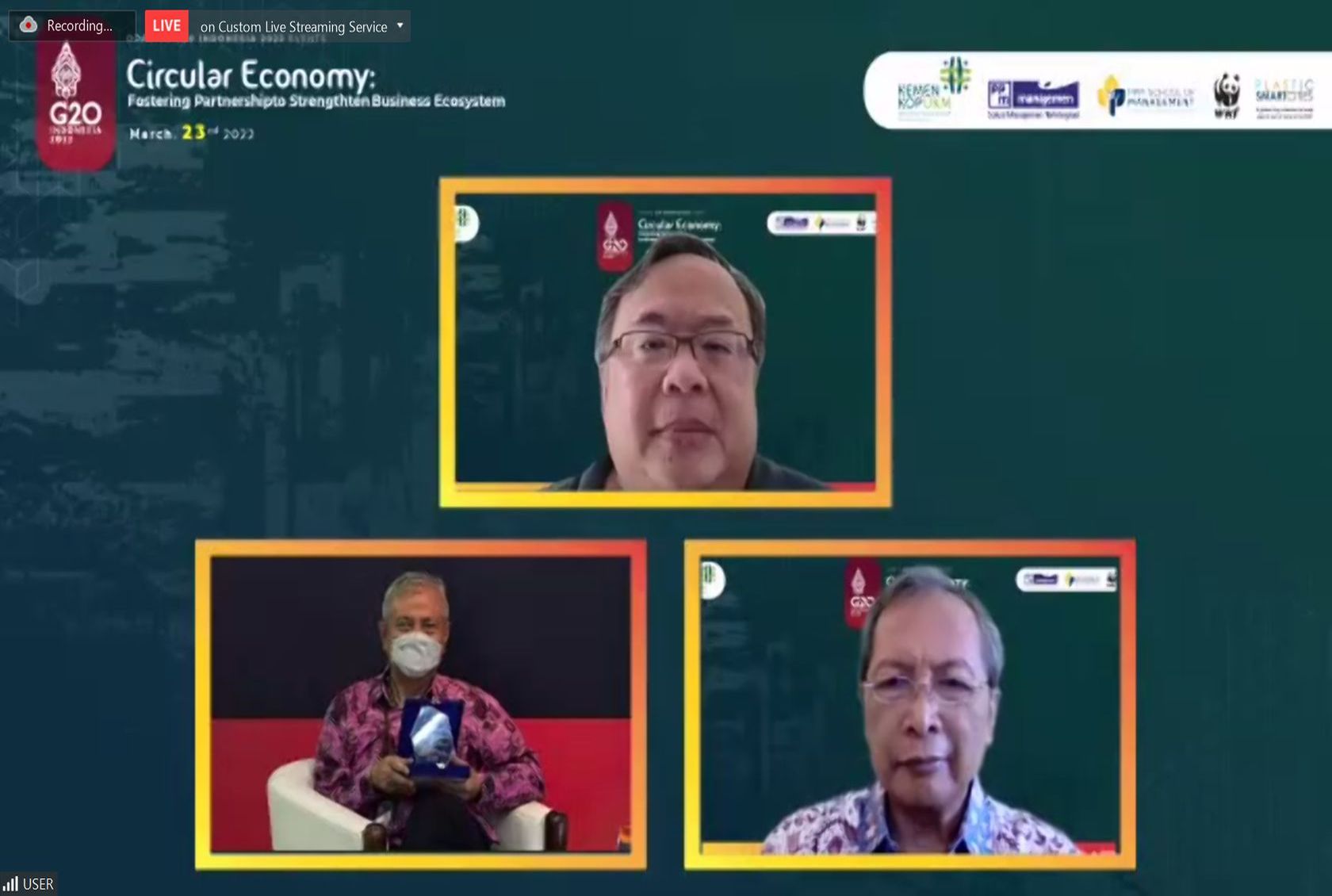 High Level Webinar Sukses diselenggarakan PPM SoM
Menteng (23/03), Sebagai upaya mendukung Presidensi G20 yang digelar di Indonesia, PPM School of Management (PPM SoM) berkolaborasi dengan Yayasan WWF Indonesia serta didukung Kementerian Koperasi dan UKM, menyelenggarakan High Level Webinar bertema Circular Economy: Fostering Partnership to Strengthen Business Ecosystem.
Ketua Umum Pengurus Yayasan Pendidikan dan Pembinaan Manajemen, Tjahjono Soerjodibroto dalam sambutannya menyampaikan, ekonomi sirkular adalah sebuah alternatif untuk ekonomi linier tradisional (buat, gunakan, buang) yakni pelaku ekonomi menjaga agar sumber daya dapat dipakai selama mungkin, menggali nilai maksimum dari penggunaan, kemudian memulihkan dan meregenerasi produk dan bahan pada setiap akhir umur layanan.
"Kami berharap webinar ini selain mendukung Presidensi G20 juga untuk memperkuat keberadaan ekonomi sirkular. Diharapkan webinar ini bisa menjadi masukan atas penyusun kebijakan pemerintah," ujar Tjahjono dalam webinar yang digelar Rabu (23/3).
Ketua Badan Pengurus WWF Indonesia, Alexander S Rusli menjelaskan ekonomi sirkular bukanlah barang baru. Namun, saat ini semua negara dan perusahaan besar sadar bersatu menyadari pentingnya ekonomi sirkular. G20 merupakan momentum yang tepat untuk menyuarakan ekonomi sirkular.
Menkop UKM Teten Masduki sebagai keynote speaker mengapresiasi webinar yang digelar di PPM SoM ini. Dalam laporan yang diterbitkan Kementerian Perencanaan Pembangunan Nasional (PPN)/Bappenas pada Januari 2021, disebut pendekatan ekonomi sirkular memberikan dampak berarti bagi ekonomi, lingkungan, dan sosial di Tanah Air.
Sementara itu, Prof Bambang P.S Brodjonegoro selaku Komisaris Utama PT Telkom Indonesia dan Guru Besar Fakultas Ekonomi dan Bisnis UI menyampaikan, bagi ekonom, ekonomi sirkular kini menjadi bahasan yang penting. Apalagi tren pandemi Covid-19 saat ini sudah menurun.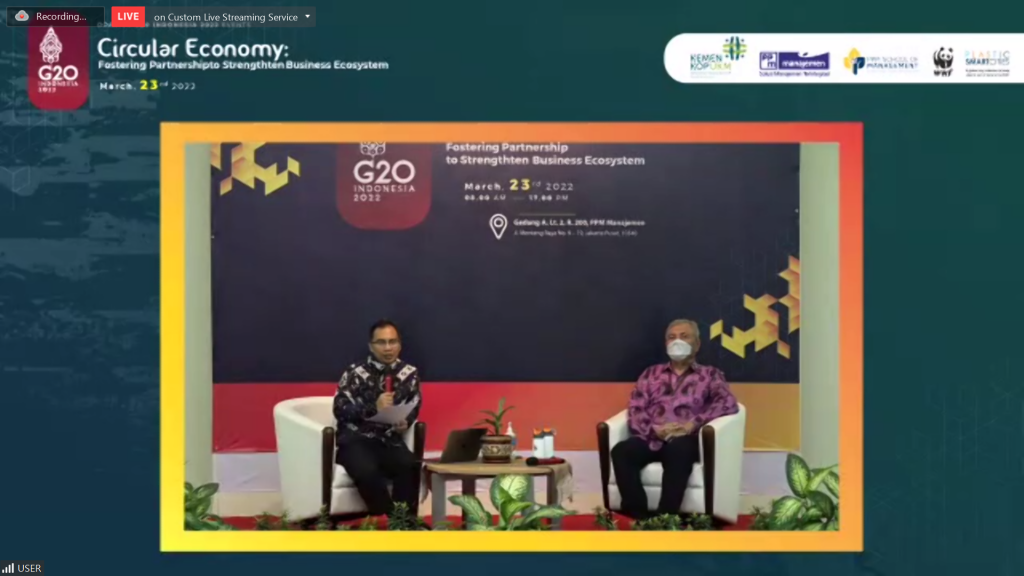 WWF dengan program Smart City Bersama PPM SoM saat ini ingin menjawab tantangan tersebut melalui gagasan untuk membangun dan memperkuat ekosistem sirkular. Diharapkan dapat menjadi pusat penguatan kapasitas sumberdaya manusia, pengetahuan, wadah berbagi gagasan dan jejaring yang berhubungan dengan ekonomi sirkular. Sebagai langkah awal adalah dengan membangun awareness dan menjaring gagasan para pihak untuk dapat nantinya diformulasikan kedalam isian implementasi.

Adapun tujuan webinar ini adalah sebagai upaya memetakan dan menjaring gagasan dalam mendukung ekosistem circular economy melalui kemitraan para pihak dimana Indonesia telah mengadopsi konsep circular economy kedalam visi 2045. tantangan penerapan dan kesenjangan dengan kondisi aktual saat ini perlu ditangani bersama.

Pemikiran ini perlu ditindaklanjuti dengan penyusunan strategi yang komprehensif dan kolaborasi antar pemangku kepentingan, seperti kementerian atau lembaga, pemerintah daerah, akademisi, dunia usaha industri dan mitra pembangunan yang dituangkan dalam policy brief terkait circular economy di Indonesia.