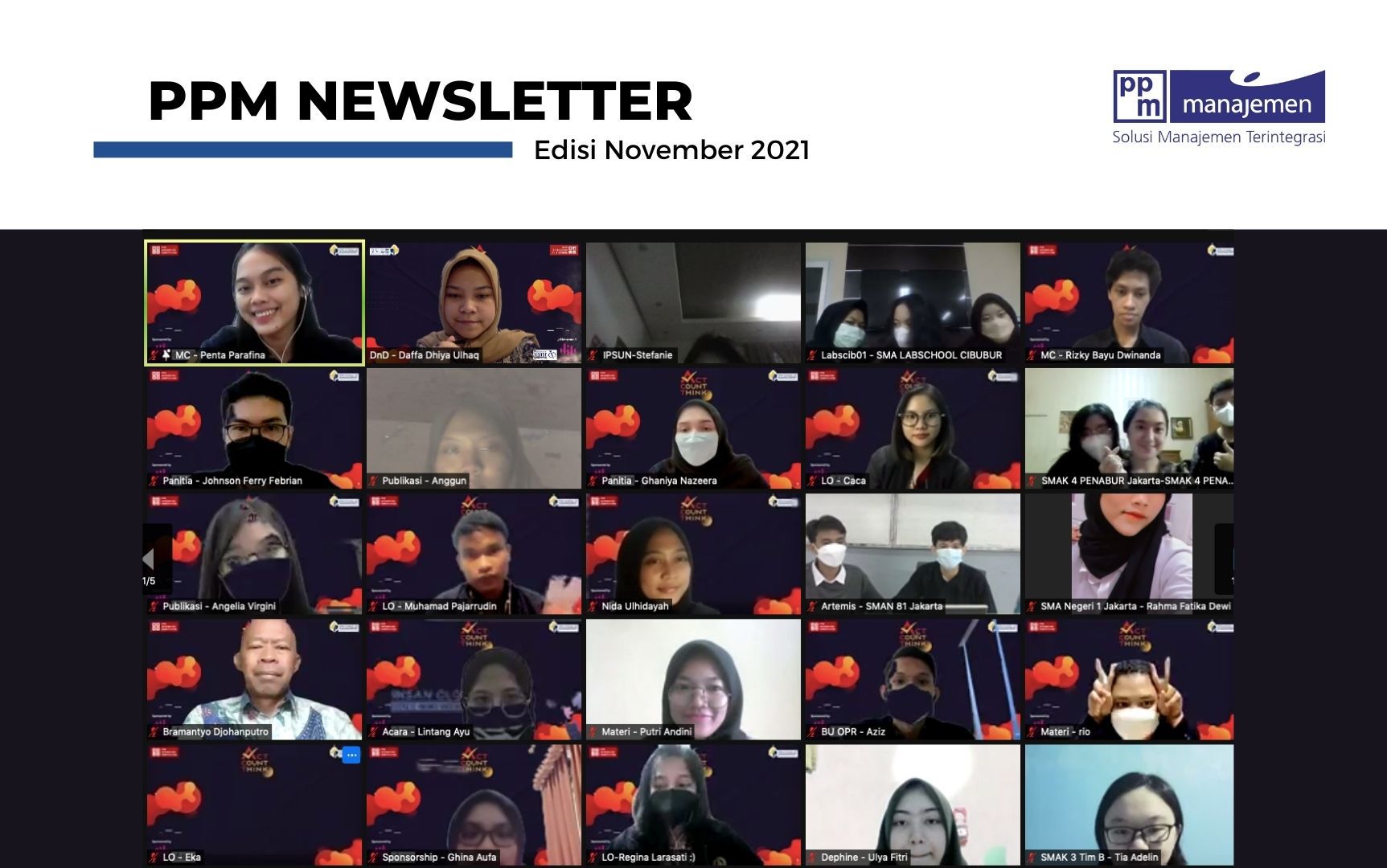 The 8th PPM Accounting Competition (ACC)
PPM School of Management (PPM SoM) mempersembahkan The 8th PPM Accounting Competition dengan tema Prove Your Competence to Become a Young Professional Accountant in the Industrial Revolution 4.0 Era pada Sabtu, 13 November 2021. Diselenggarakan secara online dengan Zoom Meetings, lomba ini diikuti oleh siswa/i SMA/MA se-Indonesia yang memiliki ketertarikan pada bidang akuntansi.
Sebanyak 101 tim yang tersebar di seluruh Indonesia menggunakan ketangkasannya dalam berhitung, keterampilan, pengalaman, pengetahuan yang mereka serap sepanjang pembelajaran di sekolah maupun di luar sekolah mengenai akuntansi untuk berkompetisi pada babak penyisihan yang telah dilaksanakan sebelumnya pada Sabtu, 6 November 2021.
Prof. Bramantyo Djohanputro, Ketua Sekolah Tinggi Manajemen PPM dalam sambutannya menyampaikan, "Dalam kompetisi, kadang orang bilang hanya ada dua pilihan yaitu menang dan kalah. Tapi kalau saya mengatakannya bukan begitu. Bagi saya kompetisi hasilnya ada dua, satu Menang yang kedua Belajar. Jadi berusahalah untuk menang tapi kalaupun Anda tidak menang, Anda belajar sesuatu untuk mempersiapkan diri Anda ke depan supaya lebih baik dan lebih kompeten."
Lomba akuntansi online yang dikemas secara unik dan menarik ini terdiri dari 3 sesi. Sesi pertama The Knowledge, diikuti oleh 50 tim terbaik yang lolos dari babak penyisihan dan bertujuan untuk mengasah pengetahuan umum akuntansi. Kemudian sesi kedua yaitu Bingo! diikuti oleh 24 tim terbaik yang lolos dari sesi pertama, di mana peserta diminta untuk mengerjakan soal-soal akuntansi dengan level kesulitan yang berbeda dengan tepat dan cepat.
Terakhir, sesi ketiga yaitu Presentasi Kasus, diikuti oleh 8 tim terbaik yang lolos dari sesi kedua untuk menjadi Finalis Juara The 8th PPM ACC. Kasus yang diberikan bertujuan untuk mengasah pemikiran logis dan critical thinking para finalis. 5 tim terbaik akan diberi gelar juara dan hadiah berupa uang tunai dan beasiswa di PPM SoM senilai ratusan juta rupiah. Kemudian untuk 10 tim terbaik lainnya, juga akan diberikan hadiah berupa beasiswa di PPM SoM.
Diharapkan para siswa/i SMA yang telah berkompetisi ini dapat meningkatkan minat untuk belajar di PPM SoM sebagai akuntan muda yang andal.