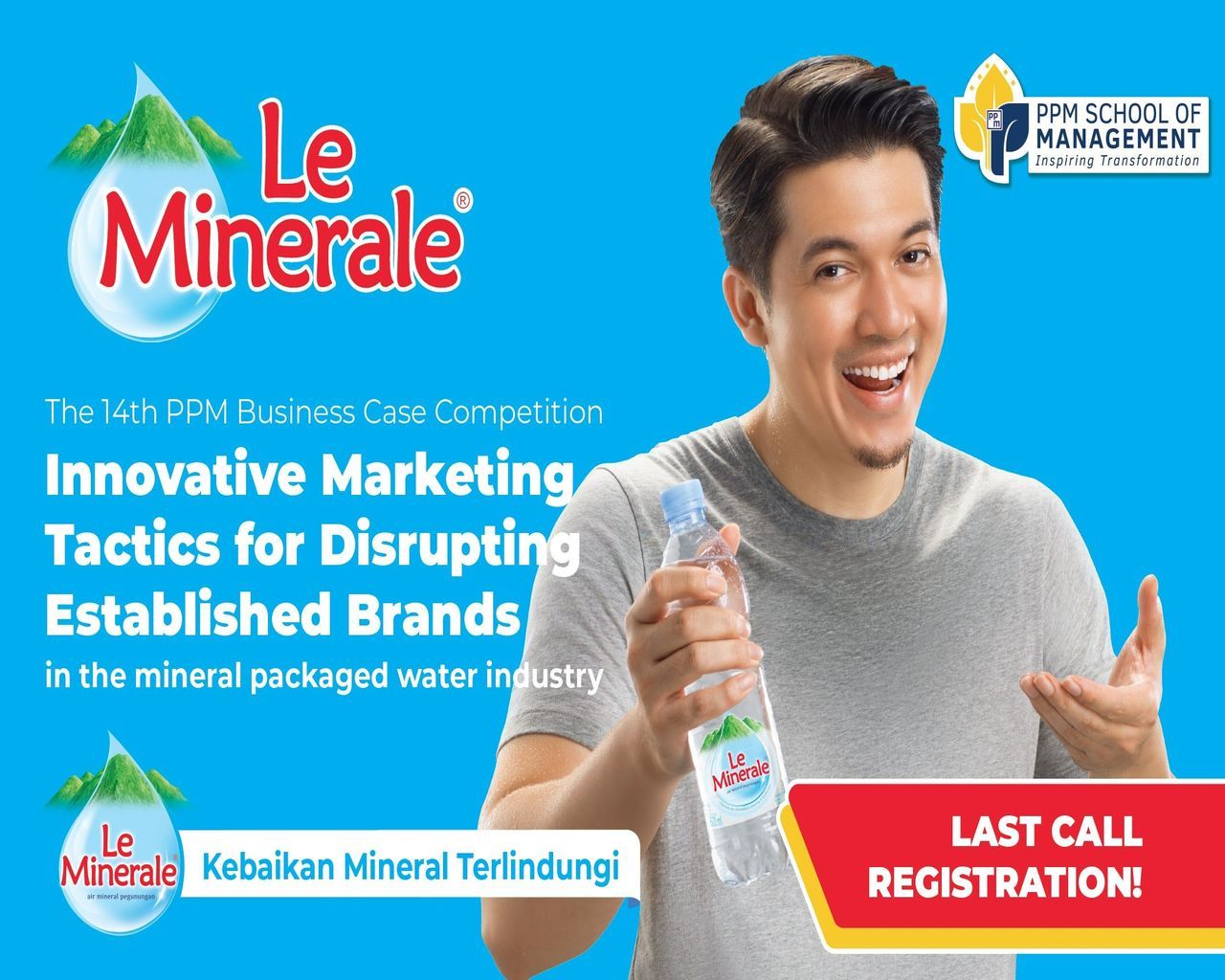 The 14th PPM Business Case Competition: Menapak Jejak Keunggulan dalam Bisnis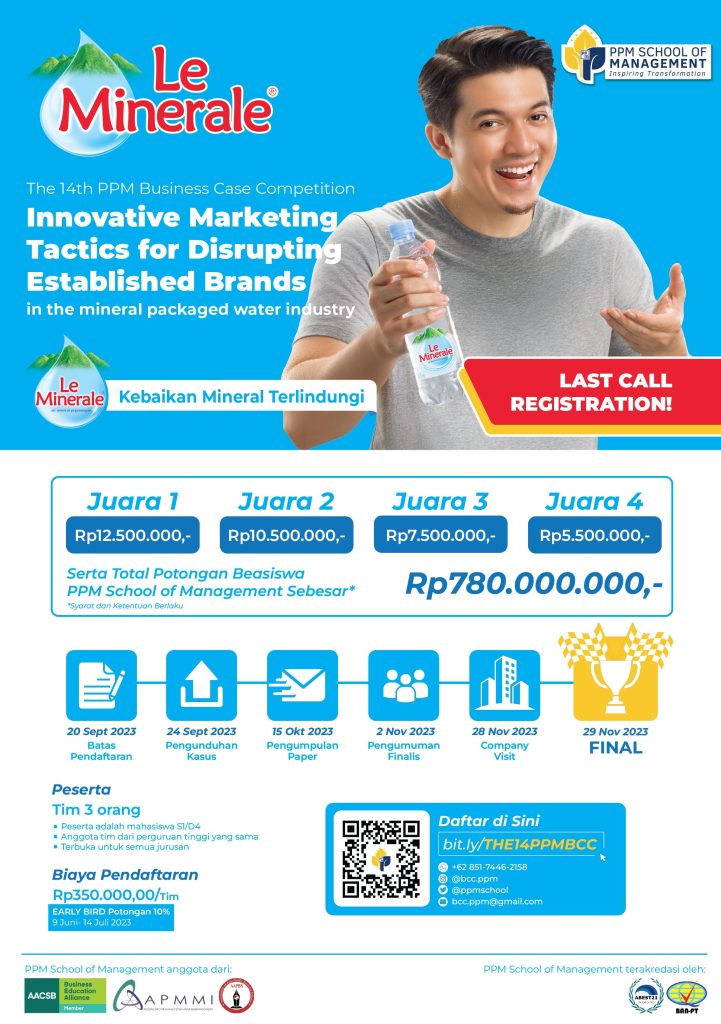 Siapa yang tidak suka tantangan? Apakah kamu mahasiswa dengan semangat bisnis yang membara? Jika iya, maka The 14th PPM Business Case Competition adalah kesempatan emas untukmu! 
Kenalan lebih jauh tentang The 14th PPM Business Case Competition yuk! Business Case Competition (BCC) ialah kompetisi bisnis tahunan bergengsi yang diadakan oleh PPM School of Management. Sebagai pelopor pendidikan manajemen di Indonesia, PPM School of Management telah berhasil menyelenggarakan kompetisi bisnis dengan menggandeng perusahaan nasional selama belasan tahun. Kompetisi yang mengundang mahasiswa dari seluruh penjuru negeri untuk menghadapi tantangan nyata dalam dunia bisnis. Para mahasiswa ini akan berhadapan langsung dengan studi kasus nyata perusahaan yang harus dipecahkan dengan solusi bisnis yang inovatif. Tahun ini, The 14th PPM Business Case Competition bekerja sama dengan Le Minerale. Mengusung "Innovative Marketing Tactics for Disrupting Established Brands In The Mineral Packaged Water Industry", para mahasiswa peserta lomba akan dipicu untuk berpikir kreatif dan memberikan solusi inovatif mengenai kasus industri air minum kemasan.
Lomba bisnis yang dikhususkan untuk tim berisikan 3 mahasiswa S1/D4 ini telah dimulai beberapa saat lalu. Saat ini, pendaftaran BCC masih dibuka hingga 20 September 2023 nanti. Setelahnya, para peserta akan mengerjakan kasus secara online dan tahap akhir akan mengikuti babak final pada 29 November 2023 secara tatap muka. Format lomba telah diatur sedemikian rupa dalam tiap tahapnya agar pengalaman lomba para peserta dapat maksimal.
Mengapa harus ikut lomba The 14th PPM Business Case Competition? Pertama, ini adalah peluang langka untuk menguji pengetahuan teoritis peserta dan tim dalam situasi bisnis nyata. Kedua, akan ada banyak potensi kolaborasi, pengalaman kompetisi dan menjadi team player dengan tim, dan membangun jaringan dengan sesama mahasiswa dari berbagai latar belakang. Terakhir, ada hadiah menarik yang bisa kamu bawa pulang, dan kesempatan untuk berinteraksi dengan para profesional bisnis yang berpengalaman. Potensi untuk mencicil professional networking di masa depan sudah dimulai sedari dini.
Lantas, bagaimana cara mengikuti lomba ini? Daftarkan tim yang berisikan 3 mahasiswa dari kampus yang sama. Tak masalah jika beda jurusan. Dalam 1 kampus sangat terbuka untuk pendaftaran dan pengiriman beberapa tim. Setelah membayar biaya pendaftaran sebesar Rp350.000,- untuk tiap tim, maka tahap selanjutnya ialah pengerjaan kasus bisnis dengan waktu terbatas. Hasil analisis ini akan dinilai oleh para ahli bisnis berpengalaman yang akan menilai analisa, kreativitas, dan pemahaman tim tentang kasus yang dihadapi.
Jangan lewatkan kesempatan ini! Masih ada promo khusus kampus mitra PPM School of Management sebesar 10% hingga akhir pendaftaran. Daftar di linktr.ee/BCC.PPM dan buktikan bahwa kamu dan tim bisa menjadi bagian dari masa depan bisnis yang cerah!