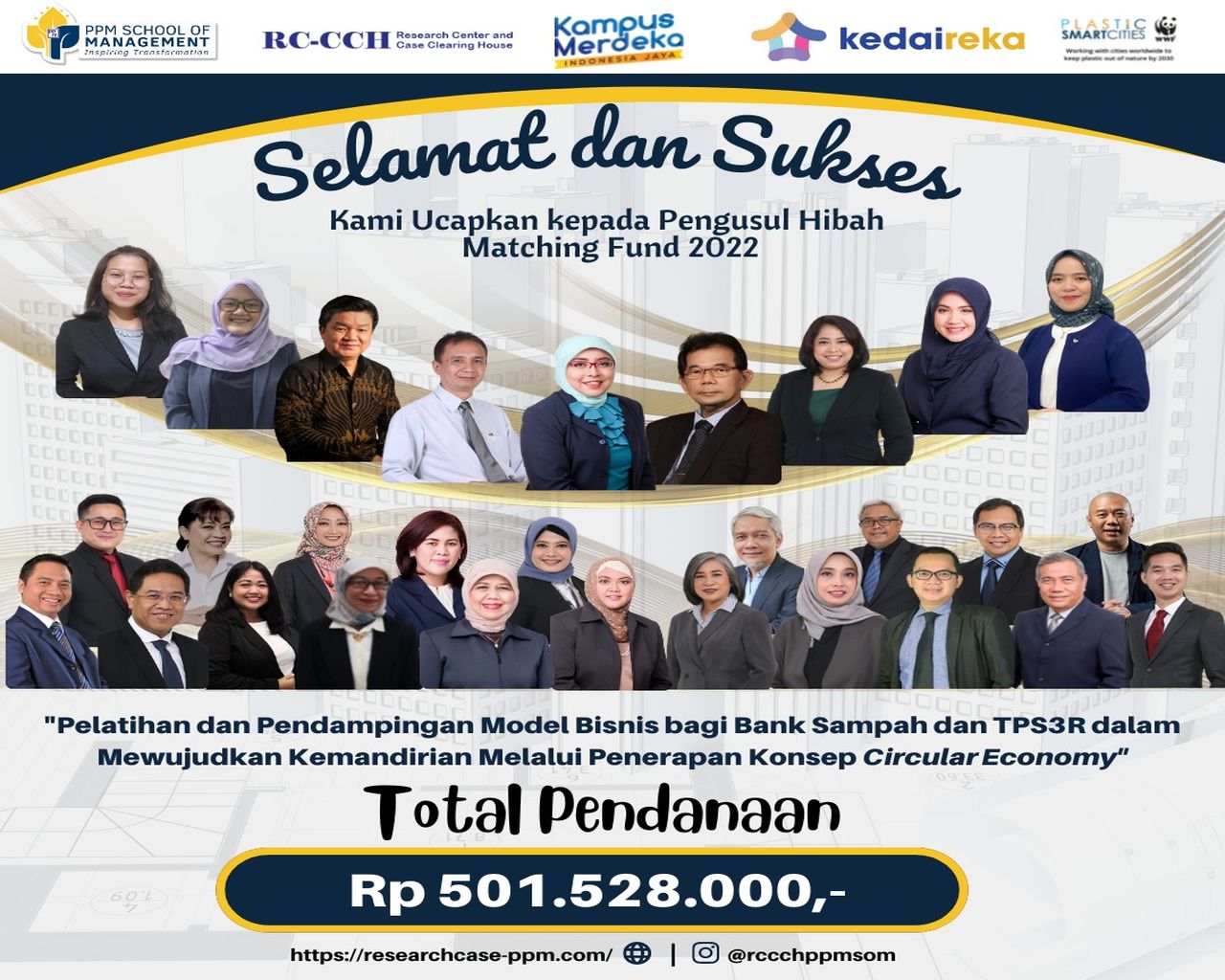 Program Hibah Matching Fund Kedaireka 2022
Dosen Sekolah Tinggi Manajemen PPM (STM PPM) kembali meraih prestasi membanggakan. Kali ini berhasil memperoleh hibah pendanaan Matching fund Kedaireka 2022 yang diselenggarakan oleh Kementerian Pendidikan, Kebudayaan, Riset dan Teknologi RI (Kemendikbud Ristekti) melalui platform Kedaireka.
Secara detail, tim dosen STM PPM memperoleh pendanaan sebesar Rp 501.528.000,- atas program matching fund untuk tahun anggaran 2022 pada gelombang ke-5, dengan tema: "Pelatihan dan Pendampingan Model Bisnis bagi Bank Sampah dan TPS3R dalam Mewujudkan Kemandirian Melalui Penerapan Konsep Circular Economy".
Dosen yang tergabung dalam Tim Hibah Matching Fund Kedaireka STM PPM ialah Dr. Aprihatiningrum Hidayati, MM, sebagai ketua tim. Selanjutnya sebagai anggota tim peneliti ialah Prof. Dr. Andrianto Wijaya, MM.; Ronny Kontur, PhD; Dr. Joni Pangestu, MM; Rike Penta Sitio, MM; Anggun Pesona Intan Puspita, MM; serta tenaga pendidik STM PPM, Rosita Fitriyani, S.E.
STM PPM dengan kepakaran dan pengalaman di bidang manajemen dan bisnis selama 55 tahun telah mendampingi lembaga atau entitas bisnis di Indonesia dalam upaya peningkatan kinerja bisnis. Melalui program Matching Fund, STM PPM menggandeng WWF Indonesia yang juga telah berpengalaman dalam penanganan masalah pengelolaan sampah plastik sebagai implementasi dari konsep ekonomi sirkuler dan pembangunan berkelanjutan. Kedua entitas ini sepakat dan berkomitmen dalam menyusun model bisnis pengelolaan sampah plastik bagi 20 lembaga binaan bank sampah dan TPS 3R di kota Jakarta dan Bogor dengan cara menerapkan konsep model bisnis sirkuler.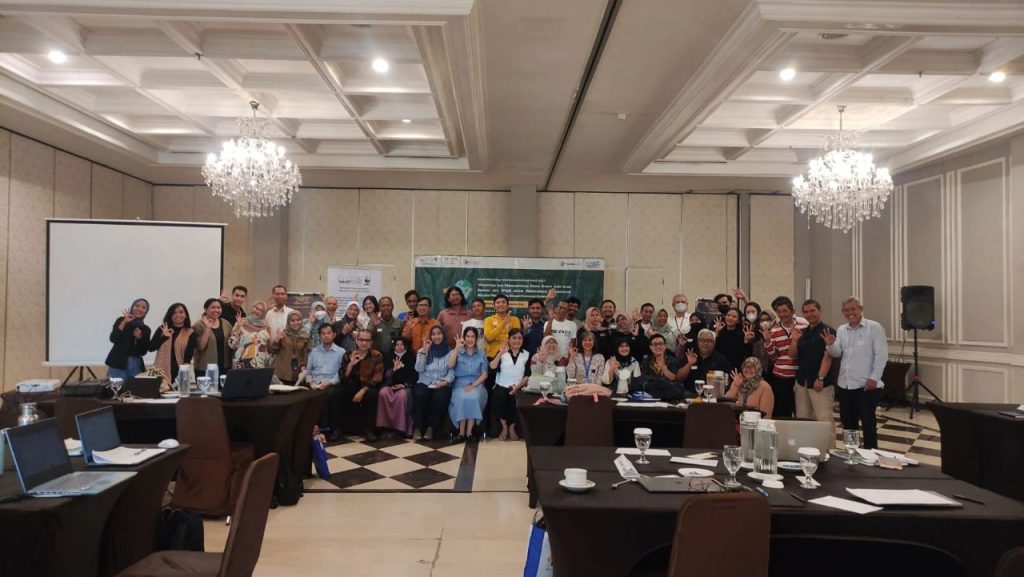 Output dari kegiatan adalah dihasilkannya 10 produk inovatif dari bank sampah atau TPS3R yang telah mampu mentransformasi model bisnisnya yang semula masih linear menjadi sirkuler yaitu dengan menerapkan konsep ekonomi sirkuler sehingga dapat dicapai kemandirian secara ekonomi. STM PPM berkomitmen mengedukasi para pengelola sampah di lingkungan masyarakat bahwa kegiatan memilah dan mengolah sampah yang telah dilakukan selama ini tidak hanya kegiatan yang bertujuan untuk menyelamatkan lingkungan dan bumi semata, tapi juga kegiatan yang dapat mendatangkan manfaat secara ekonomi yaitu membuka lapangan kerja bagi banyak orang melalui penciptaan produk-produk inovatif recycle dari sampah plastik, yang memiliki nilai lebih secara ekonomi.
Kegiatan berbentuk pelatihan, pendampingan, business pitching dan awarding yang diselenggarakan selama kurun 3 bulan (September s/d November 2022). Kegiatan dimulai dengan penyusunan modul pelatihan model bisnis berbasis ekonomi sirkuler, dilanjutkan pelatihan 10 sesi terkait model bisnis berbasis ekonomi sirkuler yang terdiri dari 5 topik utama yaitu;
kewirausahaan dan model bisnis sirkuler
pengembangan produk dan rancangan produksi
rencana pemasaran dan pemasaran digital
organisasi kerja, kerjasama tim, dan kepemimpinan
pembukuan digital dan analisis laporan keuangan sederhana
Setelah kegiatan pelatihan, dilanjutkan dengan pendampingan yang diselenggarakan selama 1 bulan dengan pertemuan progress action plan tiap 2 minggu sekali sehingga akan ada 2 sesi pendampingan. Tiap tim akan didampingi 1 dosen dan mahasiswa. Kemudian dilanjutkan acara puncak yaitu Business Pitching dan Closing Ceremony (Awarding) yang akan dihadiri seluruh tim, dosen, dan mahasiswa.
Tamu undangan adalah Presiden IGCN, wakil Kemendikbud Ristekti RI, Angel Investor, Praktisi Bisnis, Komunitas, Media, dan Mahasiswa, di mana ini akan diselenggarakan pada tanggal 21 November 2022 di Sekolah Tinggi Manajemen PPM.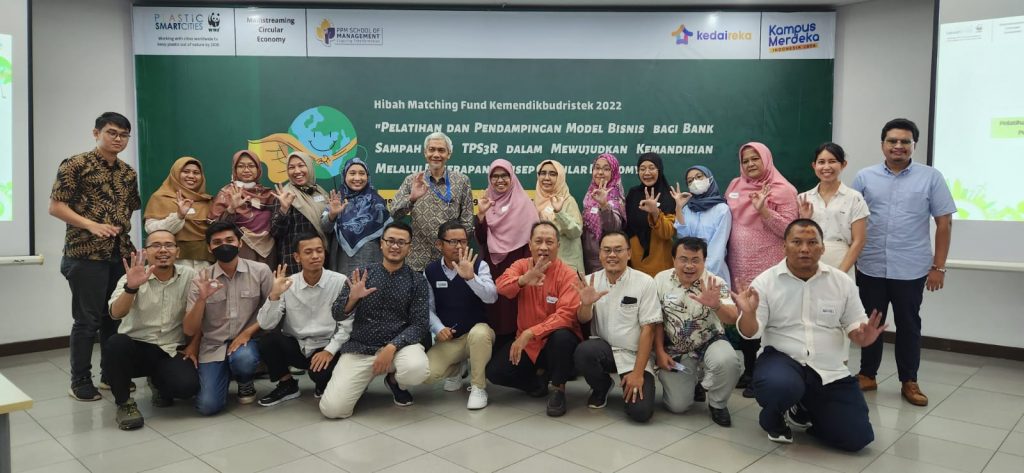 Materi presentasi yang akan ditampilkan masing-masing tim di acara puncak secara garis besar berisi strategi bisnis, namun konteksnya bukan yang sudah dijalankan saat ini (existing) tetapi diperuntukkan untuk rencana atau masa mendatang yaitu tahun 2023 sehingga strategi bisnis betul bisa dijadikan panduan dalam menjalankan usaha di tahun 2023.
Indikator penilaian strategi bisnis yang unggul adalah yang memenuhi kriteria BRIGHT (Business and Social oriented (bertujuan menghasilkan laba sekaligus menyelesaikan masalah sosial, masyarakat, dan lingkungan; Realistic (bisa diwujudkan); Innovative (menerapkan model bisnis sirkuler); Genuine (original atau belum banyak yang membuat); Honest (beretika); Timely (peka jaman atau up to date)). Misal saat ini bank sampah hanya memilah sampah dan menyalurkan ke pengepul atau TPS 3R, namun di tahun 2023 ditargetkan bank sampah dapat menghasilkan produk inovatif dari sampah plastik menjadi produk recycle seperti handicraft; recycled board; plastic pellets; recycled pallet; roster; eco bricks.
Melalui kegiatan ini, Sekolah Tinggi Manajemen PPM dan WWF Indonesia berharap dapat memberikan dampak nyata bagi para pelaku usaha pengelolaan sampah untuk memiliki mentalitas wirausaha, yang mampu memanfaatkan peluang dari sampah yang dikelolanya sehingga dapat menghasilkan produk-produk inovatif hasil recycle sampah. (KUR)