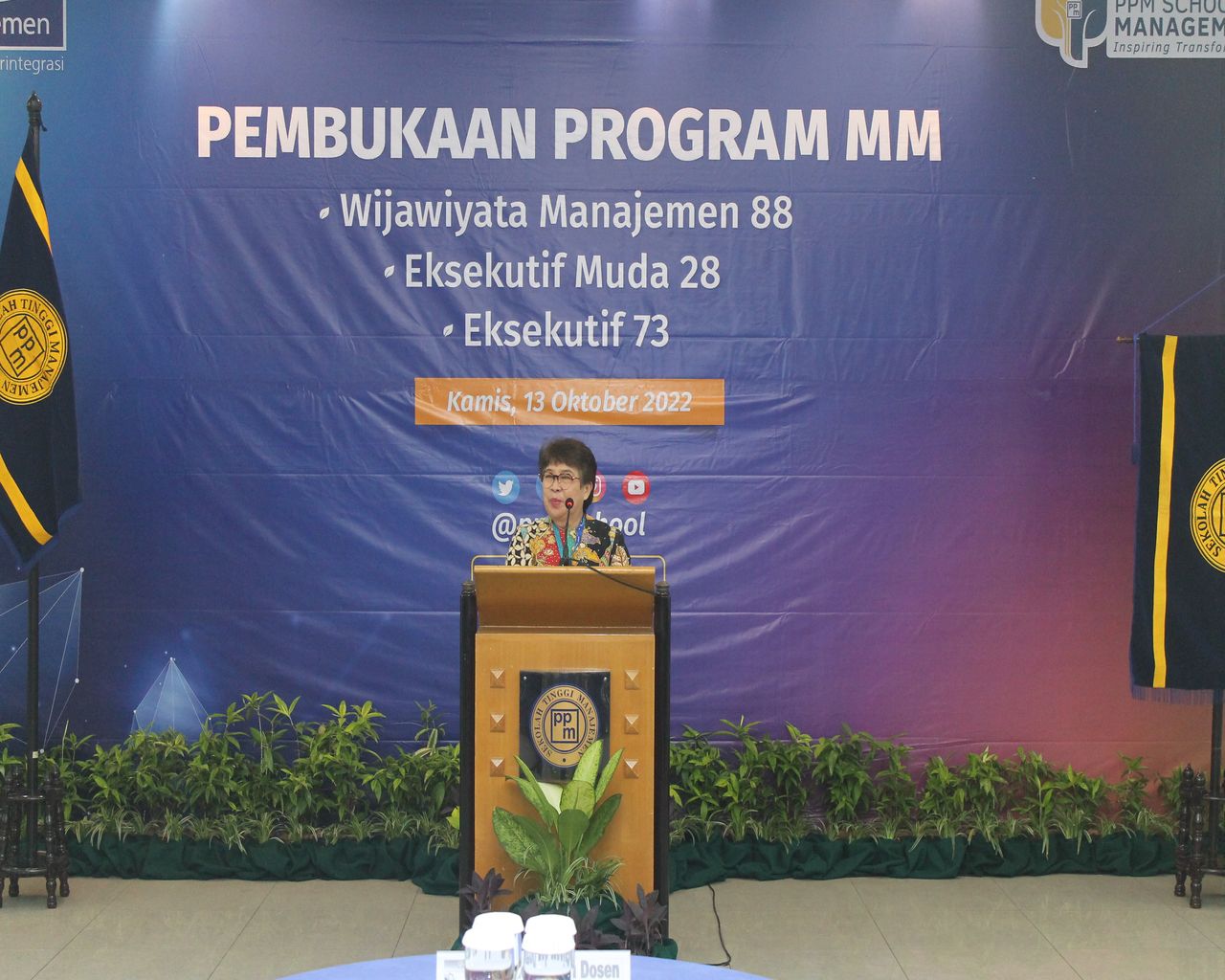 PPM SoM Sambut Mahasiswa Baru Program MM
Kamis, (13/10) PPM School of Management (PPM SoM) menyambut hangat para mahasiswa baru program Magister Management (MM). Jika dua tahun berturut-turut pembukaan kelas digelar secara daring karena imbas Covid-19, tahun ini pembukaan kelas MM kembali digelar secara tatap muka seiring melandainya pandemi.
Acara ini merupakan sebuah awal kepada mahasiswa baru PPM SoM secara lebih detail terkait sistem perkuliahan dan terutama tentang metode pembelajaran online, offline dan hybrid yang diterapkan saat ini. Tahun ini, tercatat sebanyak 95 Mahasiswa yang terdiri dari 14 peserta MM Wijawiyata Manajemen (WM); 26 peserta MM Eksekutif Muda; dan 55 peserta MM Eksekutif.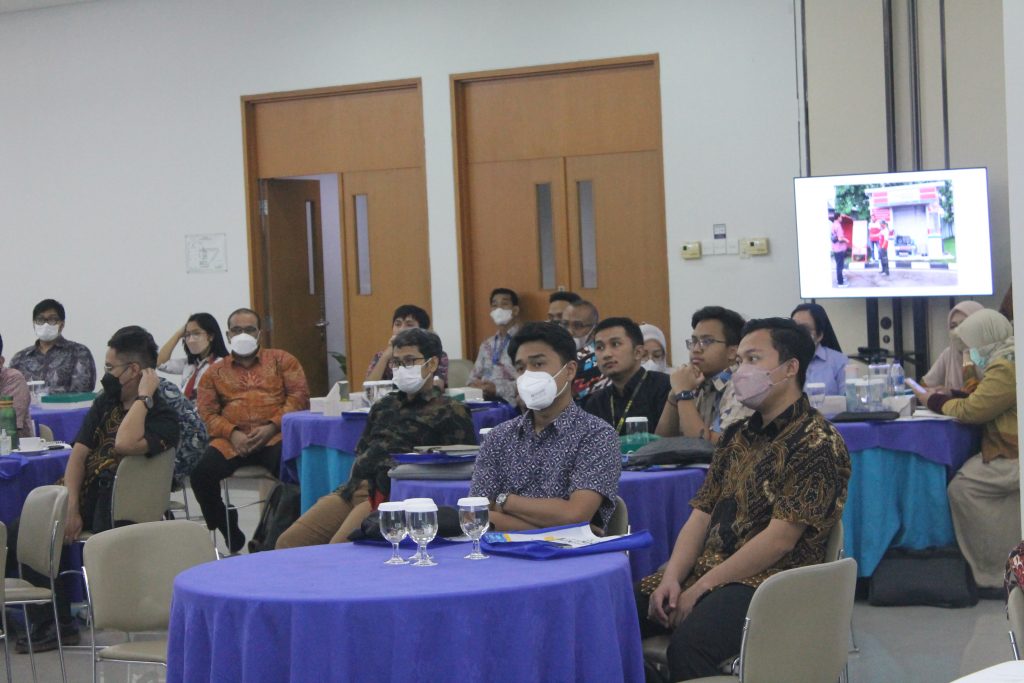 Menyambut para mahasiswa baru, acara perkenalan ini dibuka oleh Ketua PPM SoM Dr. Pepey Riawati Kurnia, M.M., CPM seraya mengucapkan selamat kepada para mahasiswa yang sudah bergabung di lembaga manajemen pertama di Indonesia ini, serta dilanjutkan dengan pemberian beasiswa penuh The Future Leader (TFL) AM Kadarman secara simbolis kepada juara 1 TFL atas nama Olipia Margaretha.
Dalam kesempatan ini juga digelar Sharing Session menghadirkan H. Adang Wijaya, S.Si., M.M Alumni WM 39 – Owner & Founder GREEN NITROGEN, dengan membawakan topik masa indah di kampus PPM SoM.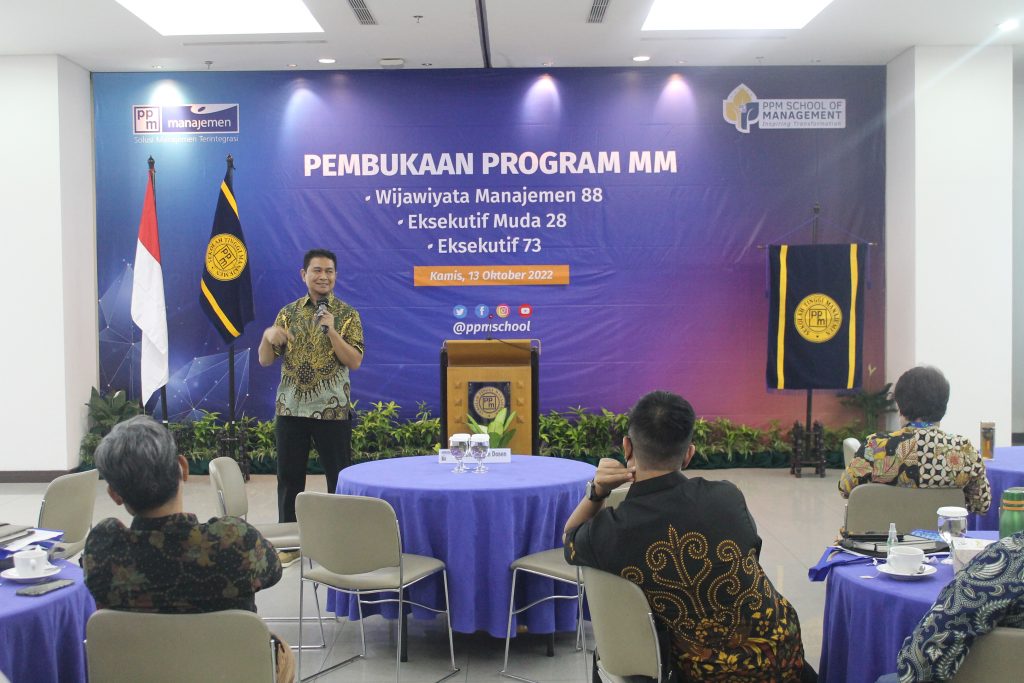 Di sini mahasiswa baru tidak hanya dibekali informasi seputar kehidupan kampus di lingkungan PPM SoM, namun juga beragam materi lainnya. Mahasiswa diperkenalkan lebih dalam mengenai program MM, mulai dari pembekalan pedoman belajar bagi mahasiswa PPM SoM guna membantu proses perkuliahan. Serta pengenalan sumber daya digital apa saja yang dimiliki oleh PPM SoM dan bagaimana mendapatkannya, yaitu dengan fasilitas dan akses perpustakaan yang juga diperkenalkan dalam acara ini. Terakhir, ditutup dengan fasilitas apa saja yang dapat digunakan oleh mahasiswa dari Pusat Teknologi dan Informasi PPM SoM. (KUR)