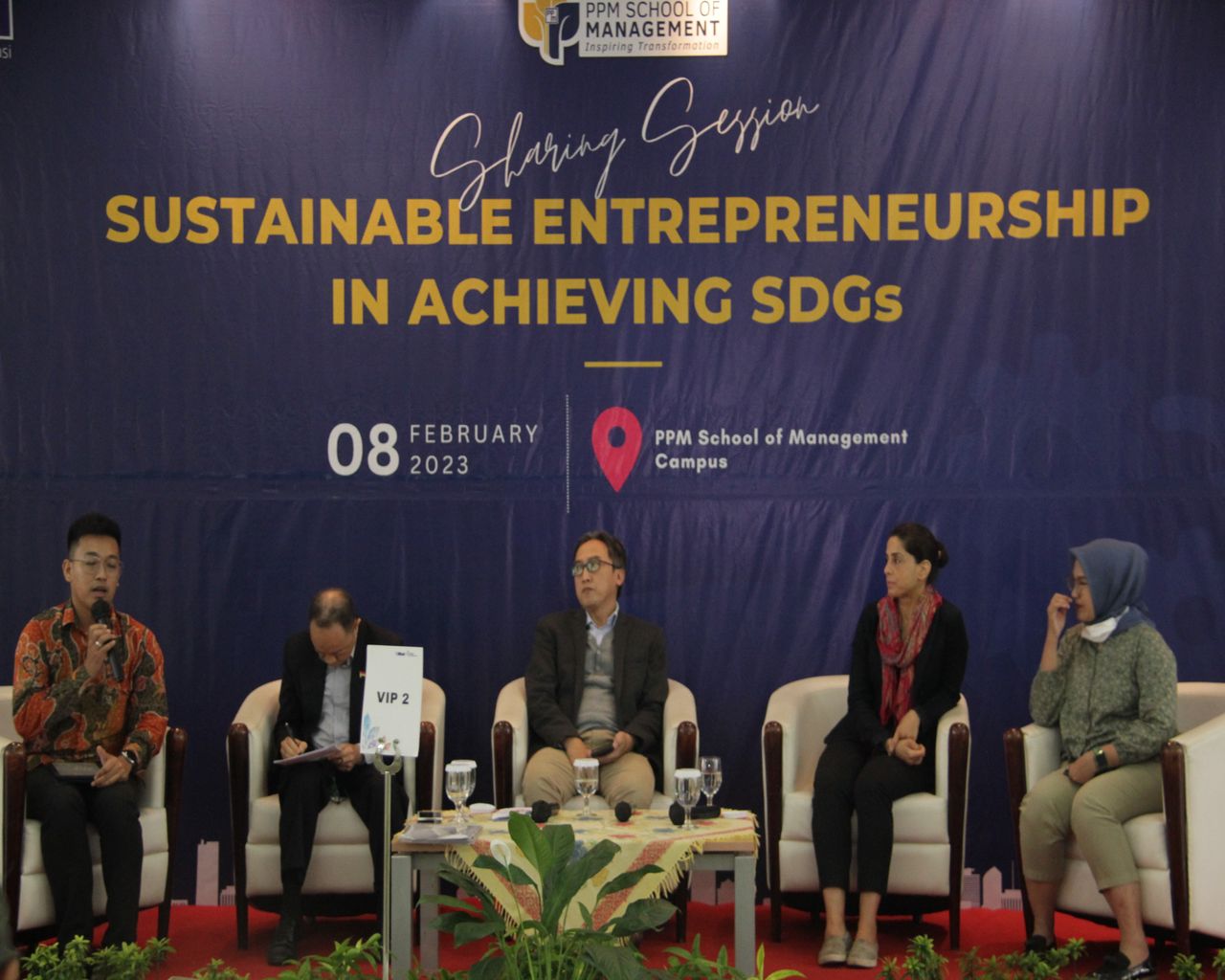 PPM Manajemen Ingatkan Pentingnya "Sustainable Entrepreneurship" untuk Perkuat SDGs
PPM Manajemen melalui PPM School of Management menggelar "Sharing Session: Sustainable Entrepreneurship in Achieving SDG's" pada Rabu, 8 Februari 2023 secara hybrid di Kampus PPM School of Management, Jakarta.
PPM Manajemen berharap sharing session ini akan mampu meningkatkan kesadaran dunia usaha tentang pentingnya penerapan prinsip keberlanjutan dalam menjalankan bisnis, dengan cara konvensional yang hanya berorientasi pada profit, tidak lagi dipandang sebagai cara terbaik dalam berbisnis. Diperlukan keseimbangan untuk mencapai profit sambil menjaga kelestarian lingkungan atau sosial.
Hal inilah yang menjadi landasan pentingnya Sustainable Entrepreneurship.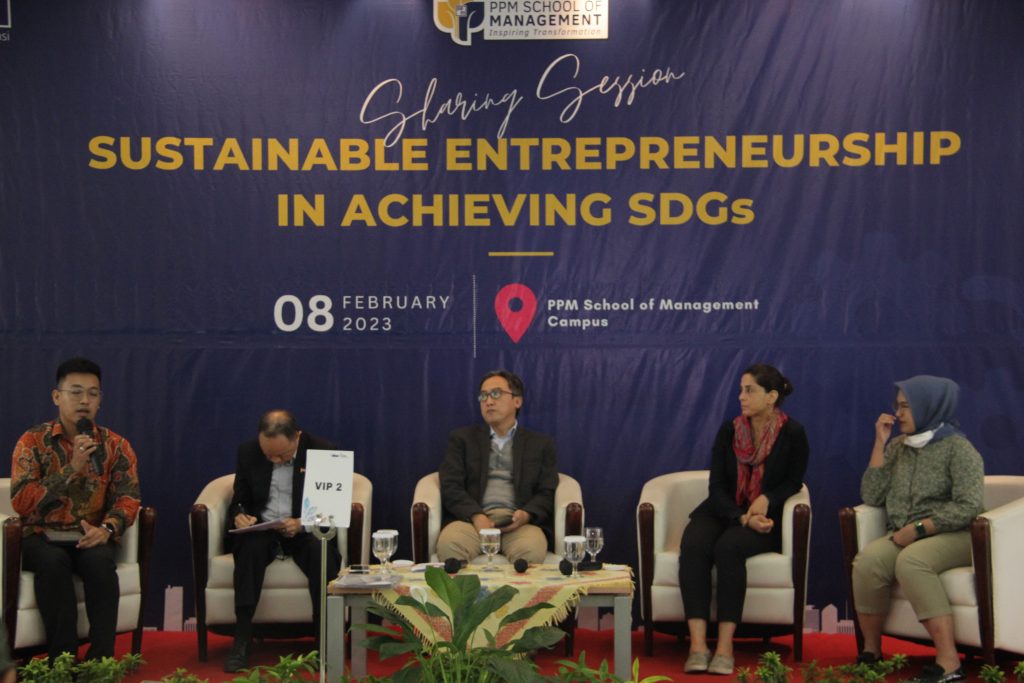 Sharing Session: Sustainable Entrepreneurship in Achieving SDG's" ini menghadirkan tiga pembicara, Bryan Tilaar – Board Member of PPM Manajemen Foundation ; Dani Wildan – Senior VP Head of Social Entrepreneurship & Incubation Division PT Bank Rakyat Indonesia, Tbk, dan Dr. Teresa Chahine – Fulbright Specialist Senior Lecturer in Social Entrepreneurship Yale University. Sharing Session sendiri dimoderatori oleh Alvian Chris Pradana – Ninja Van (Ninja Xpress) – VP of Growth and Corporate Strategy.
Bryan Tilaar Presdir Martina Berto Group sekaligus Anggota Pengurus Yayasan PPM membagikan pandangan bagaimana nilai-nilai keberlanjutan ini dapat diselaraskan dalam bisnis. "Bisnis tetap profitable namun juga tetap berdampak; contohnya di dalam program-program pemberdayaan wanita dan program Kampoeng Djamoe Organik," jelas Bryan Tilaar.
Dani Wildan, Senior VP Head of Social Entrepreneur and Incubation BRI yang menjadi pembicara menyampaikan, lewat program Kampung Brilian, BRI berupaya memberdayakan ekonomi desa lewat pembinaan desa baik secara online maupun offline.
Dalam kesempatan sama, Teresa Chahine dari Yale School of Management memaparkan bagaimana isu sustainability mempengaruhi keputusan berinvestasi (impact investment) dan bagaimana munculnya beberapa social enterprise di seluruh dunia.
Ia juga menyampaikan, "karena dunia bisnis dan masyarakat semakin menyatu, kita tidak mungkin lagi mengambil pendekatan 100 persen sosial ataupun 100 persen profit-oriented." "Maka dari itu, diperlukan kolaborasi yang lebih banyak lagi antar stakeholders agar memudahkan terciptanya social innovation yang berdampak," tegas Teresa Chahine.
Dalam kesempatan tersebut, Social Entrepreneurship Lecturer Core Faculty PPM School of Management, Anggun Pesona Intan menjelaskan, kegiatan ini merupakan rangkaian agenda dua minggu bersama dengan Teresa Chaline dari Fulbright Specialist Senior Lecture in Social Entrepreneurship Yale University (e-Minef).
"Di sini yang mana tujuannya untuk membantu kami di PPM, menggali terkait kurikulum social entrepreneurship dan juga sustainable development goals (SDGs) sustainability. Hari ini seminar bertujuan untuk semakin memberikan awareness, bahwa memang yang namanya sustainability terutama untuk mencapai SDGs itu sudah dilakukan dari lama dan harus menjadi perhatian, terutama dari kami sebagai hire education," lanjut Anggun.
Anggun juga menjelaskan, pihaknya berkomitmen untuk melahirkan agen-agen perubahan ketika nanti mereka sudah keluar dan berkarya dan memberikan perhatian terkait berbagai isu pembangunan berkelanjutan. "Ini juga akan dipublikasikan, untuk memberikan saran kebijakan, bukan hanya kepada pemerintah tetapi juga kepada pelaku usaha," tegasnya.
Anggun juga memandang, kegiatan bisnis dengan mengusung nilai-nilai keberlanjutan sejalan dengan "filosofi jalan daun", di mana PPM Manajemen memiliki visi untuk dapat tumbuh bersama dengan mitra agar dapat berdampak positif bagi masyarakat dan negara.
"Oleh karena itu, kita perlu membuka mata bahwa masih banyak permasalahan sosial dan lingkungan yang terjadi di masyarakat. Bersama-sama, kita dapat mengatasi masalah ini yang juga sejalan dengan arahan pemerintah untuk mencapai Tujuan Pembangunan Berkelanjutan," pungkasnya.