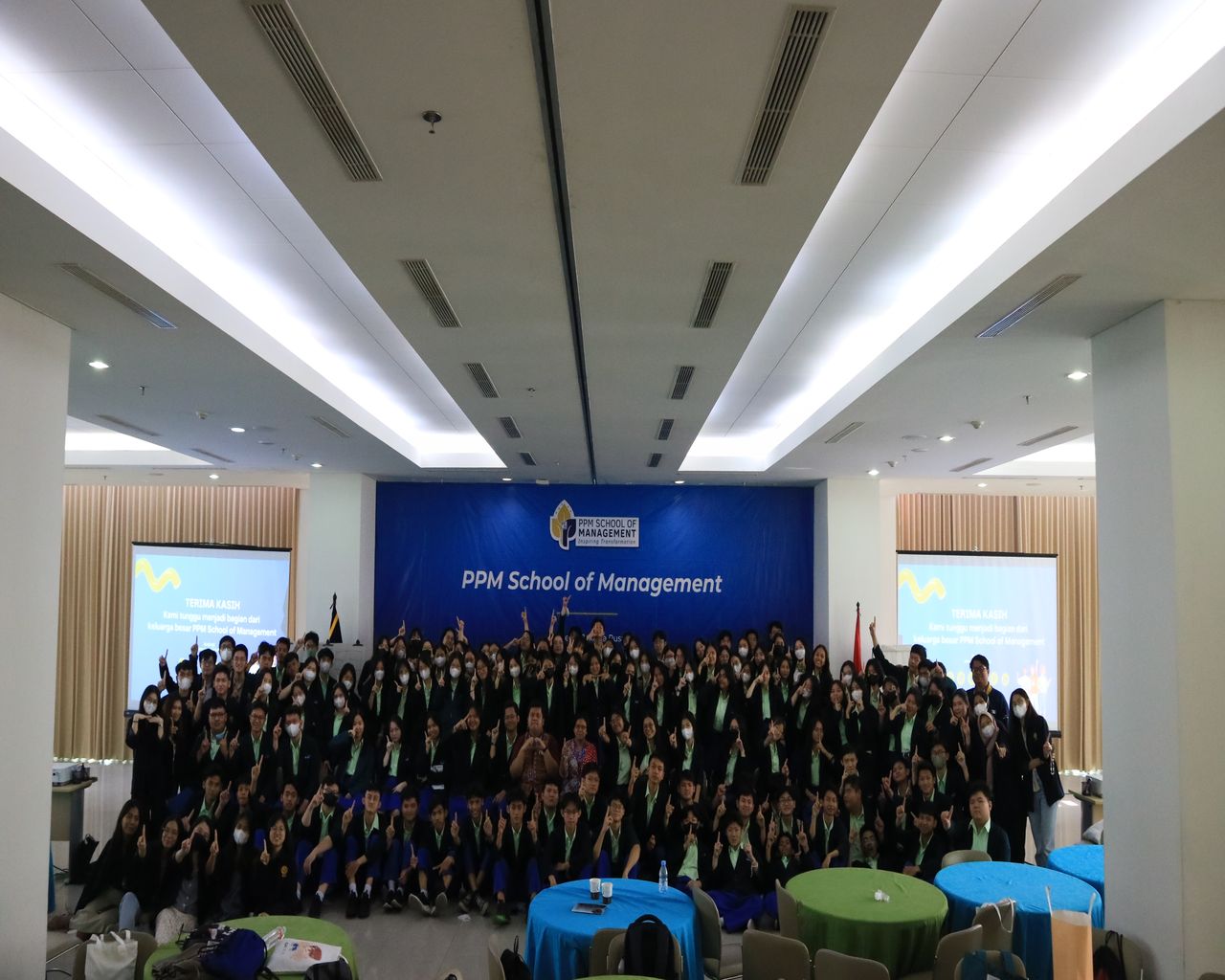 Jelajahi Keseruan Belajar di PPM School of Management Melalui Campus Tour!
PPM School of Management (PPM SoM) menggelar Campus Tour pada Selasa, 29 Agustus 2023. Secara khusus, PPM SoM mengundang SMK Strada 1 dengan jurusan Akuntansi dan DMC (Digital Marketing & Communication) sebagai pemberian kesempatan kepada para siswa-siswi untuk lebih mengenal lebih dekat PPM SoM. Sebanyak 126 siswa/i dengan 2 guru pendamping hadir di Gedung B AM Kadarman PPM SoM.
Denia Putri Ramadhanty, sebagai Event Marketing, menyampaikan, "Hal ini bertujuan untuk menarik minat teman-teman yang baru masuk kelas 12 untuk mengetahui dunia manajemen dan akuntansi di jenjang perkuliahan, harapannya di tahun ajaran 2024/2025 nanti banyak siswa/i Strada 1 yang menjadikan PPM SoM menjadi tempat mereka melanjutkan pendidikan. Selain itu, diharapkan siswa/i SMK Strada 1 dapat melihat potensi karir bidang akuntansi dan manajemen di masa depan dengan melihat contoh-contoh tempat bekerja alumni-alumni dari PPM SoM".
Meskipun di tahun-tahun sebelumnya beberapa siswa/i dari SMK Strada 1 sudah ada yang menjadi mahasiswa PPM SoM, campus tour ini merupakan yang pertama kali diadakan khusus untuk mereka agar menambah semangat untuk meraih masa depan cerah dalam dunia manajemen dan akuntansi.
Acara dimulai dengan sambutan hangat dari Anindhita Dewi Nariswari, Plt. Manajer Marketing, dan Vera selalu wakil kepala kesiswaan SMK Strada 1. Kemudian ada juga penyampaian informasi mengenai program sarjana dari Tatang Taryana selaku Supervisor Ppemasaran dan dilanjutkan juga penyampaian testimoni dari Fransiska selaku Mahasiswa program SAB PPM SoM yang merupakan Alumni SMK Strada 1 mengenai pengalaman menarik, situasi belajar mengajar dan kesempatan pengembangan diri yang diberikan oleh PPM SoM.
Agar para siswa/i merasakan hangatnya situasi belajar di PPM SoM, mereka dikenalkan dengan para dosen berkualitas yang mengajar di PPM SoM. Pada acara campus tour ini, kami mengundang Andriati Fitriningrum, S.Sos, Ph.D., M.M., untuk , mengajar pada kelas akuntansi sedangkan untuk mengisi kelas manajemen kami mengundang Nanda Alifia Putri, S.Bns., M.M. Selain kegiatan belajar mengajar, mereka juga diajak untuk merasakan atmosfer belajar di PPM SoM melalui penyampaian materi di kelas hingga berkeliling melihat fasilitas-fasilitas yang tersedia di PPM SoM. Seperti ruang kelas, gym, perpustakaan, amphitheatre, lalu ke cafe-in (kantin), beranda, sampai ke lobi gedung A.
Melalui Campus Tour ini, PPM SoM tidak hanya membuka pintu bagi para siswa SMK Strada 1 untuk mengejar mimpi mereka, tetapi juga memberikan inspirasi dan visi tentang masa depan yang cerah dalam dunia manajemen dan akuntansi. Dengan pengalaman berharga ini, semoga banyak di antara mereka yang memilih PPM SoM sebagai langkah pertama menuju kesuksesan karir yang gemilang di masa depan. Jangan lewatkan kesempatan kamu untuk menjelajahi potensimu bersama kami di PPM SoM!