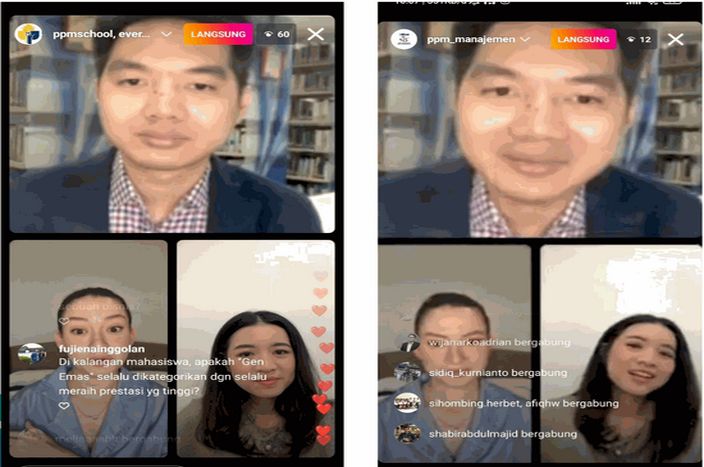 IG Live Series Edisi Spesial Rangkaian HUT 55 PPM Manajemen "GENERASI EMAS, ARE YOU?"
Jakarta (20/05/2022). PPM Manajemen kembali mengadakan IG Live Series. Kali ini dengan tema "Generasi Emas, Are you?" sebagai rangkaian menyambut HUT 55 PPM Manajemen Live dimulai dari pukul 16.00 WIB sampai dengan 17.00 WIB kali ini merupakan kolaborasi IG Live PPM Manajemen dan PPM School of Management, dan mengambil momentum Hari Kebangkitan Nasional. 
Judul "Generasi Emas, Are you?" diusung seraya memaknai bahwa generasi penerus bangsa yang akan menentukan masa depan dan integritas bangsa Indonesia ke depan. Generasi emas yang dimaksud terdiri atas generasi muda yang penuh optimisme dan gairah untuk maju. Generasi yang mempunyai sikap dan pola pikir yang berlandaskan moral yang kokoh dan benar dengan visi ke depan yang cemerlang. Tak lupa juga mereka yang punya mentalitas unggul (growth mindset).
IG Live Series ini menghadirkan dua narasumber, Karina Nadila yang merupakan Puteri Indonesia Pariwisata 2017, TOP 14 Miss Supranational 2017, Puteri Indonesia wakil NTT 2017, Duta 10 Bali Baru untuk Labuan Bajo, anggota komunitas Traveling dan Teaching 1000 guru, Karina juga berkecimpung di dunia entertainment. Satu narasumber lagi ialah Benita Kristina seorang womenpreneur yang memiliki semangat berkarya dengan ide-ide kreatifnya karena dari tahun 2012 sudah memulai bisnis scrapbook dan juga terpilih sebagai perwakilan Indonesia pada Outstanding Students for The World (OSTW): Diplomasi Ekonomi Wirausaha Muda di Hongkong tahun 2016. IG Live kali ini sendiri dimoderatori oleh Dimas Maulana – Konsultan PPM Manajemen.