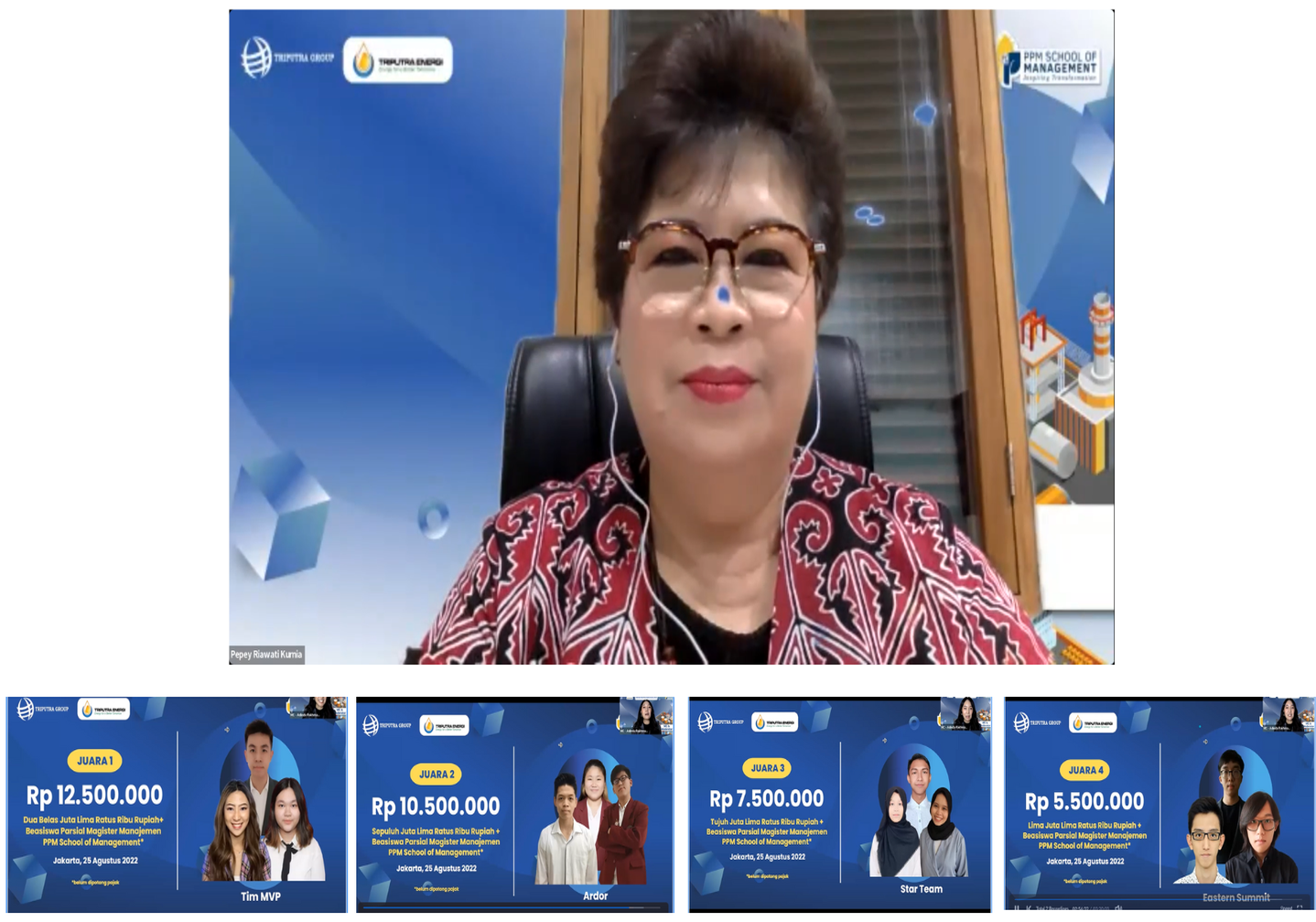 PPM School of Management Gelar BCC Ke-13 Angkat Kasus Bisnis PT TEM
PPM School of Management (PPM SoM) kembali menggelar "PPM Business Case Competition (BCC)" secara daring, tahun ini memasuki tahun ke tiga belas BCC. "The 13th PPM Business Case Competition" diadakan pada Kamis 25 Agustus 2022.
Kali ini PPM SoM menggandeng PT Triputra Energi Megatara (TEM) yang merupakan anak perusahaan dari Triputra Group dan mengangkat kasus bisnis bertajuk "Fighting the Conventional: Pursuing Growth in Biodiesel Industry"
Plt. Ketua PPM School of Management, Pepey Riawati Kurnia menjelaskan kepedulian PPM School terhadap kemajuan pendidikan, khususnya pendidikan manajemen, tidak hanya berfokus pada konsep namun juga berorientasi praktikal.
"Bersama dengan mitra kolaborasinya pada tahun ini, Triputra Energi Megatara yang bergerak di industri energi, PPM SoM telah kembali berhasil melaksanakan kompetisi bisnis dengan topik pembahasan serta pemecahan kasus yang sangat menarik," jelas Pepey Riawati.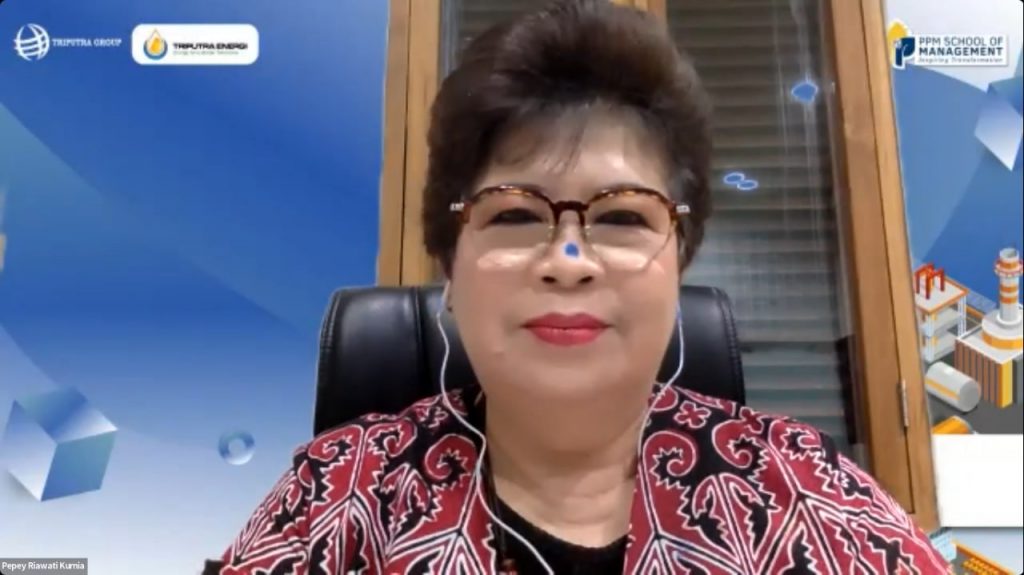 Dalam kesempatan sama, General Manager Commercial Triputra Energi Megatara, Oky Heryanto menjelaskan, TEM adalah perusahaan perdagangan energi di Indonesia yang menyediakan solusi energi dengan kualitas terbaik dan harga kompetitif bagi pelanggan di industri.
"Melalui kolaborasi yang dilakukan, PPM SoM dan TEM berupaya untuk memperkenalkan lebih jauh terkait bisnis di industri biodiesel yang pada era terkini sedang mengalami perkembangan pesat di Indonesia," katanya.
Kasus bisnis yang diangkat dalam PPM BCC merupakan kasus dari permasalahan nyata yang dihadapi oleh Triputra Energi Megatara. Menggunakan gaya penulisan Harvard-style Business Case, kasus yang digunakan dalam kompetisi PPM BCC disusun oleh tim penulis kasus profesional dari PPM SoM.
Penulisan kasus ini dikoordinasikan secara langsung oleh Research Center and Case Clearing House (RC-CCH), sebuah divisi strategis PPM SoM yang sudah rutin menjadi pioner dalam tugas riset dan penulisan kasus bisnis.
Kasus yang disusun ini tidak diciptakan hanya untuk pengembangan internal semata, namun juga untuk pengembangan pendidikan manajemen dalam lingkup nasional serta regional.
"Melalui RC-CCH, PPM School of Management telah banyak menghasilkan kasus bisnis yang bercita rasa lokal, namun tetap mengacu pada perubahan yang terjadi di dunia bisnis global," jelas Pepey.
"Kasus bisnis tersebut selanjutnya dimanfaatkan sebagai bahan ajar baik dalam ranah pendidikan formal, maupun dalam beragam pelatihan manajemen yang juga dimanfaatkan oleh entitas pendidikan manajemen lainnya di skala nasional hingga internasional," lanjutnya.
Dalam ajang ini, mahasiswa tingkat S1/D4 dari berbagai perguruan tinggi di Indonesia berkesempatan menggunakan pengetahuan, keterampilan, dan pengalaman untuk berkompetisi dalam kualitas analisis, sintesis serta presentasi kasus bisnis yang belum pernah dipublikasikan.
Melalui platform online, puncak dari The 13th PPM Business Case Competition resmi terlaksana pada Kamis, 25 Agustus 2022. Setelah melalui proses seleksi awal, 12 tim finalis yang terpilih kemudian beradu argumen, pandangan, serta pendapat mereka atas solusi yang telah mereka susun di hadapan dewan juri dan perwakilan dari Triputra Energi Megatara dan Triputra Group, untuk mempertahankan ide.
Sehari sebelum pelaksanaan main event yaitu babak business pitching (25/8), peserta juga telah berpartisipasi dalam kegiatan Company Visit Onsite dengan protokol kesehatan ketat yang dilaksanakan di kantor Triputra Energi Megatara.
"Pada kegiatan kunjungan tersebut, para peserta diajak untuk mengenal lebih jauh terkait aktivitas serta kegiatan operasional dari TEM, sekaligus memperdalam pemahaman mereka mengenai perusahaan yang bergerak di industri biodiesel tersebut," terang Oky.
Setelah melalui penilaian yang panjang dan mendalam, akhirnya para dewan juri yang beranggotakan dari akademisi dan praktisi menobatkan pemenang kompetisi kasus bisnis ini:
Juara 1: MPV Team, Universitas Bina Nusantara
Juara 2: Ardor Team, Universitas Tarumanagara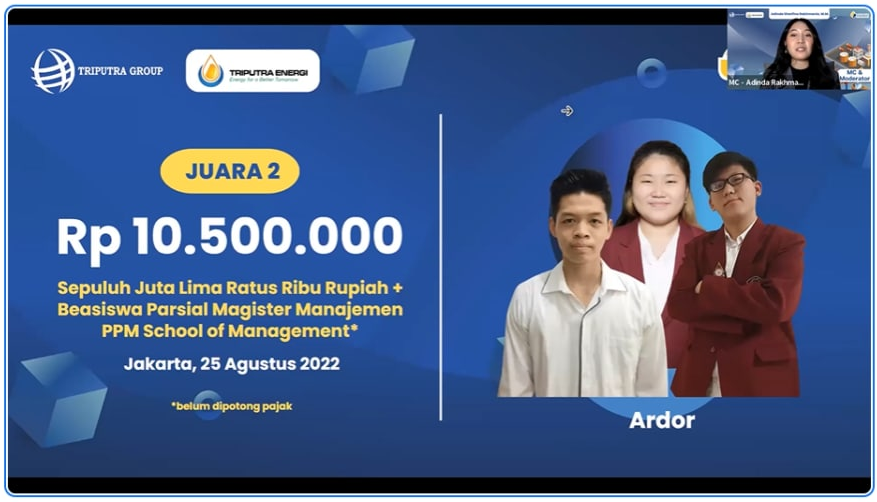 Juara 3: Star Team, PPM School of Management
Juara 4: Eastern Summit, Universitas Kristen Maranatha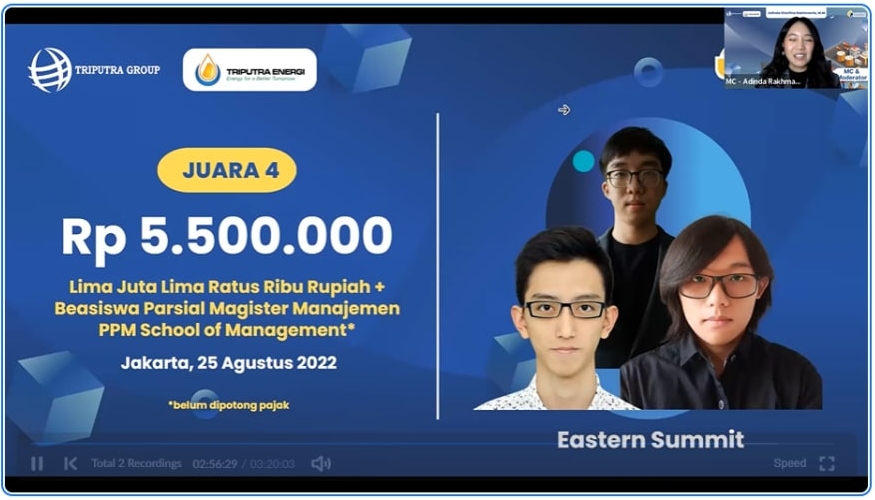 Dengan ini, sudah resmi tiga tahun pelaksanaan BCC dilakukan secara virtual dan respons positif masih terus diberikan oleh para peserta yang telah merasakan langsung pengalaman dalam menyelesaikan kasus bisnis yang diberikan.
Seiring dengan antusiasme yang ada, PPM SoM juga terus termotivasi untuk selalu meningkatkan kualitas serta mengembangkan kegiatan kompetisinya sehingga dapat terus memberikan kontribusi yang optimal dalam memajukan pendidikan manajemen di Indonesia. (KUR)
BCC merupakan perwujudan dari salah satu misi Triputra Energi Megatara dan Triputra Group yaitu menjadi ruang untuk tumbuh bagi masyarakat. (KUR)