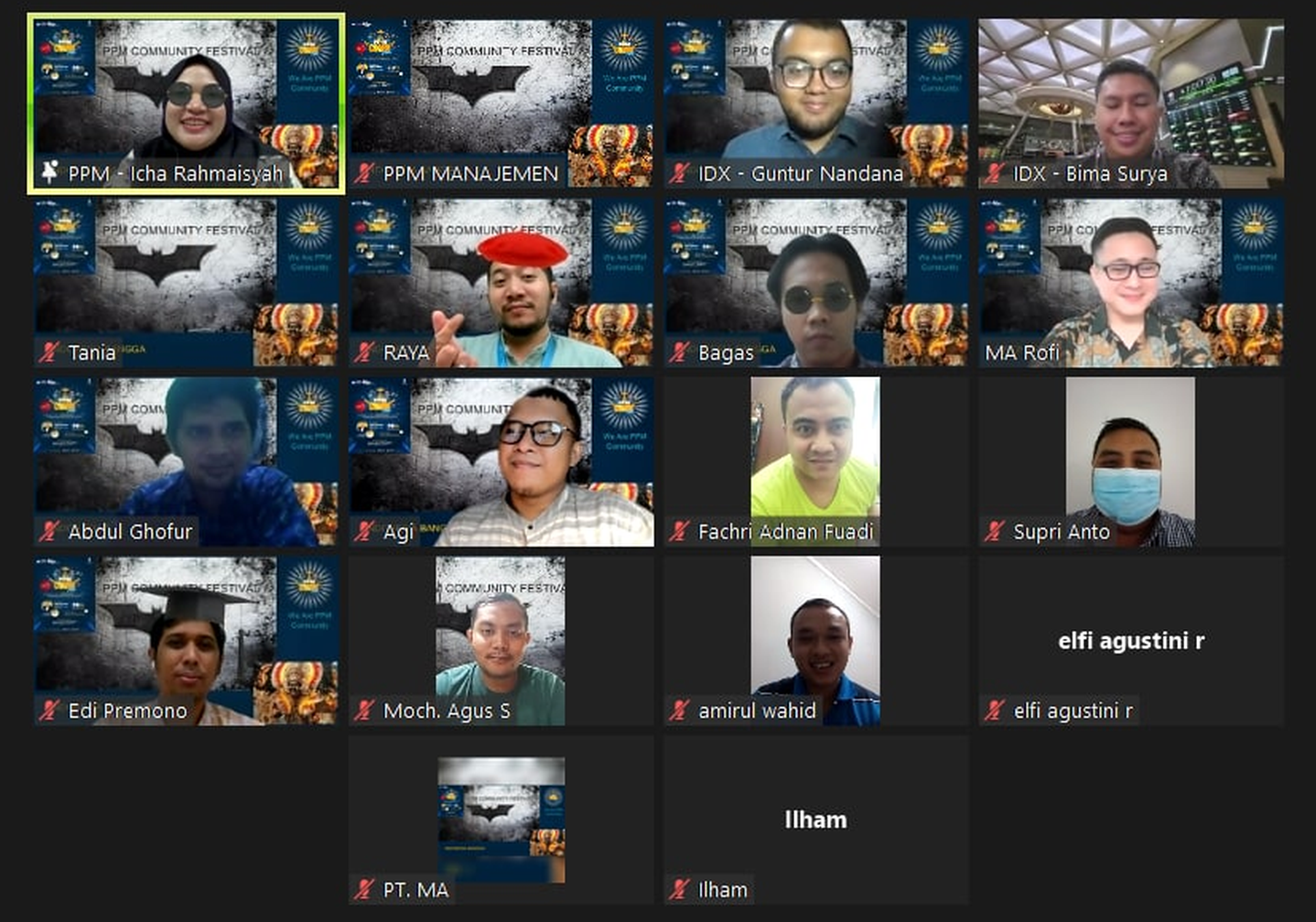 Korporat Komunikasi berkolaborasi dengan IDX Bursa Efek Indonesia menggelar "PPM Comm Fest", kegiatan ini dilakukan secara daring melalui Zoom meeting pada kamis (28/07).
Acara yang diperuntukkan bagi member PPM Community ini dipandu oleh Master of Ceremony, Rahmaisyah (Manajer Komunikasi Korporat), dalam rangkaian acaranya juga diselenggarakan talkshow dengan menghadirkan satu pembicara, Bima Ruditya Surya – Assistant Vice President, Potential Listing Development PT Bursa Efek Indonesia, dan dimoderatori oleh M. Akhsanur Rofi – Expert & Lecturer in Governance, Risk & Compliance at PPM School of Management.
PPM Comm Fest (baca: PPM Community Festival) adalah sebuah kegiatan kumpul-kumpul member PPM Community agar saling kenal dan saling sapa antar member sebagai dukungan dan kepedulian kepada pengembangan komunitas. Diramaikan dengan berbagai kegiatan, antara lain Relationship Building, Clinic Management, Ice Breaking, Lucky Wheel, Quiz & Game.
PPM Community yang menggunakan platform aplikasi perpesanan Telegram memiliki 5 Komunitas (HCM, LTD, INV, GRC, OPEX) dengan total member lebih dari 1000 orang dari seluruh Indonesia. Hingga saat ini, PPM Community telah melaksanakan beberapa kegiatan rutin seperti Kamis Dinamis Bersama Konsultan Manis, Pojok Pintar Manajemen, Tanya Konsultan, Koprol (Kopi Darat Online), PPM Community Tournament, Telegram Kuis, dan yang terakhir PPM Comm Fest.
Harapannya dengan diadakan PPM Comm Fest ini PPM Community di Telegram Group berhasil menjalankan tujuannya yakni sebagai wadah berdiskusi dan menambah relasi para member, menjalin keakraban sesama member, wadah kumpul-kumpul member agar saling kenal dan saling sapa, bisa saling belajar dan mengasah soft skill untuk menjadi bekal dalam meraih sukses di masa depan. (KUR)