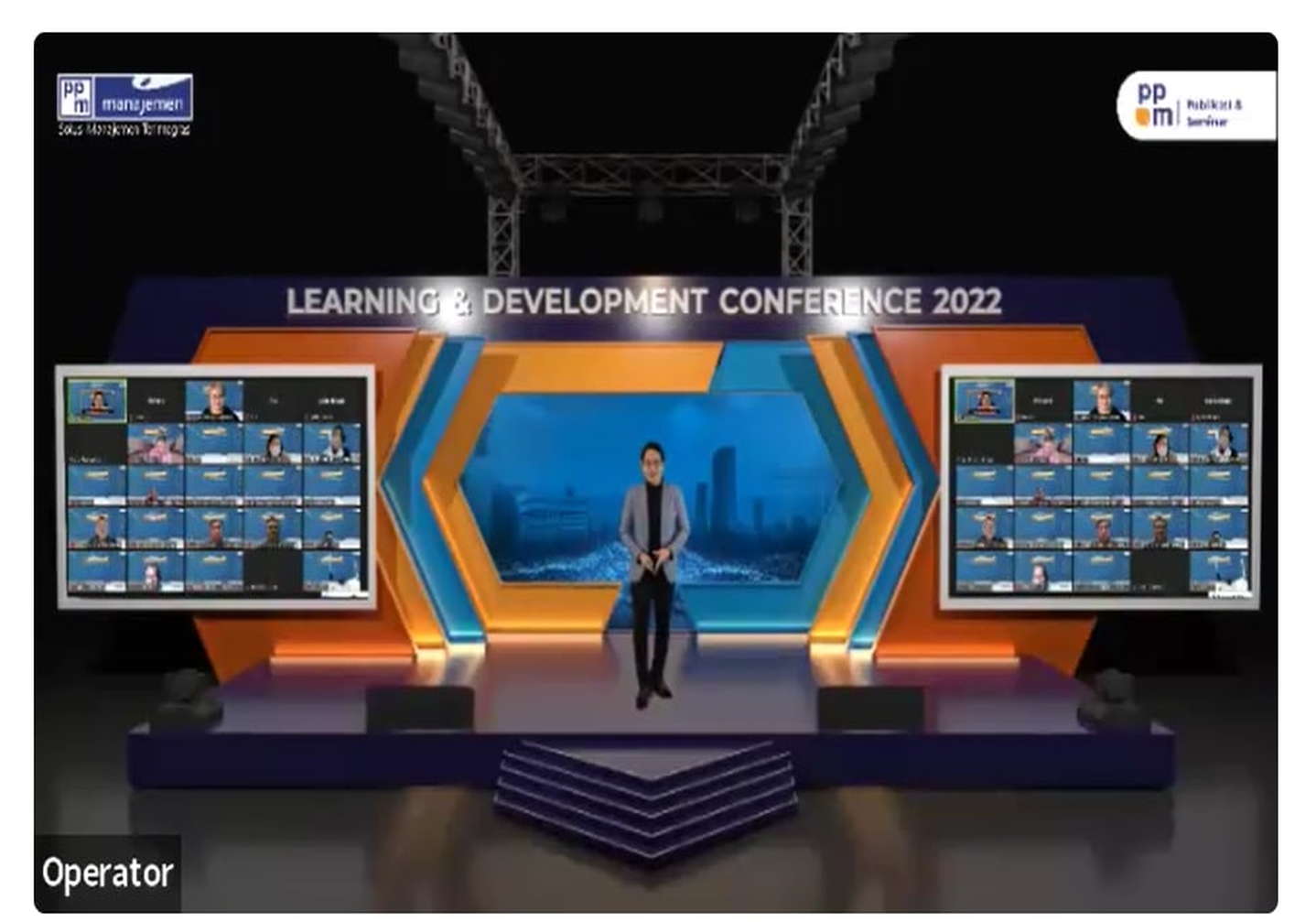 Learning & Development Conference 2022
PPM Publikasi dan Seminar mengadakan Learning & Development Conference 2022 pada Rabu (10/08) secara online via Zoom Meeting dengan tema "Repurposing of Learning: Facing the New Era of Work, Workforce, and Workplace", acara ini dihadiri kurang lebih 100 peserta dari berbagai perusahaan.
Dalam sambutannya di Learning and Development Conference, Pepey Riawati Kurnia selaku Plt. Direktur Jasa Pengembangan Eksekutif PPM Manajemen mengatakan, teknologi dan pandemi menjadi dua disrupsi yang memaksa Human Capital Professional mengubah gaya mereka dalam pengelolaan sumber daya manusia, salah satunya dalam mengelola Learning & Development karyawan. Namun hingga kini permasalahan tersebut belum menunjukkan keefektifan atau tidaknya sebuah pembelajaran, masih menjadi PR yang besar, pengelolaan talent menjadi salah satu kunci sukses dalam program Learning & Development.
Masih menurut Ibu Pepey, Learning and Development Conference adalah yang pertama di Indonesia, Konferensi ini akan memberikan insight, wawasan dan inspirasi terkini terkait pembelajaran dan pengembangan karyawan. Tidak hanya satu sudut pandang tetapi dari seluruh sudut pandang Learning Professional (Designer, Developer, dan Deliver).
Learning and Development Conference dibuka dengan Opening Perspective (Learning Transformation to Conquer Business Challenge) dari Mirta Amaranti – New Product Development Coordinator PPM Manajemen.
Konferensi dikemas secara menarik dan dibagi sebanyak tiga sesi, sesi pertama mengangkat topik Learning Design & Development "High Impactful Methods" menghadirkan tiga pembicara, yaitu Eko Nugroho – CEO PT Arka Buana Kummara (Game Based Learning, Not Just a Game to Learn); Zusty Dewayani – Head of Division In House Learning PPM Manajemen (Real Experience, Real Learning, Real Impact); Kartika Akbaria – VP Human Capital & Corporate Affairs Ruangguru (Designing Microlearning that Truly Micro) dan dimoderatori oleh Diyah Dumasari Siregar – Core Faculty PPM School of Management.

Sesi kedua mengangkat topik Corporate Learning Reshaping Organizational Learning dengan menghadirkan tiga pembicara, Nanang Kurniawan – Head of Training and Culture Development Triputra Excellence Centre (Building Critical Skill and Competencies); Andreas Hassim – Division Head BRI Corporate University PT Bank Rakyat Indonesia (Persero) Tbk (Building Leadership Bench-strength); Joko Pitoyo – Senior Manager of Engineering Learning PLN Corporate University (Measuring the Impact of Behavior Change Programs) serta dimoderatori oleh Achmad Fahrozi, Head of Group Expertise – Leadership and Talent Development PPM Manajemen.

Selanjutnya di sesi ketiga mengangkat topik Learning Facilitation Maximize Learning Success dengan menghadirkan tiga pembicara yaitu Ponco DH Hediarto – Owner PT Piwi Jelajah Nusantara (PIWI); Lucki Lukmanulhakim – Trainer & Ekspert System SDM PT Akselerasi Indonesia; Titis Setyawardani – Core Consultant PPM Manajemen dan dimoderatori oleh Anissa Dwiyana – Student Coordinator PPM School of Management.
Konferensi ditutup dengan talkshow yang mengangkat topik Repurpose Learning: Corporate University as Learning Heroes dengan menghadirkan tiga pembicara yaitu Arif Rudiana – SGM Deputy Telkom Corporate University Center; Edward Simarmata – Head of Management and Leadership Training Center Mahkamah Agung RI; Pius Yudono – Head of People COE Allianz Indonesia dan dimoderatori oleh Mirta Amaranti – New Product Development Coordinator PPM Manajemen.
Setelah mengikuti konferensi ini, peserta diharapkan bisa mendapatkan pengetahuan dan pengalaman peran Learning Design & Development dalam menyukseskan transformasi perusahaan, gambaran strategi dalam bidang Corporate Learning di dunia khususnya di Indonesia, informasi terkini mengenai Learning Facilitation di Era Digital, inspirasi dari berbagai praktisi Learning & Development dan Learning Professional. (KUR)