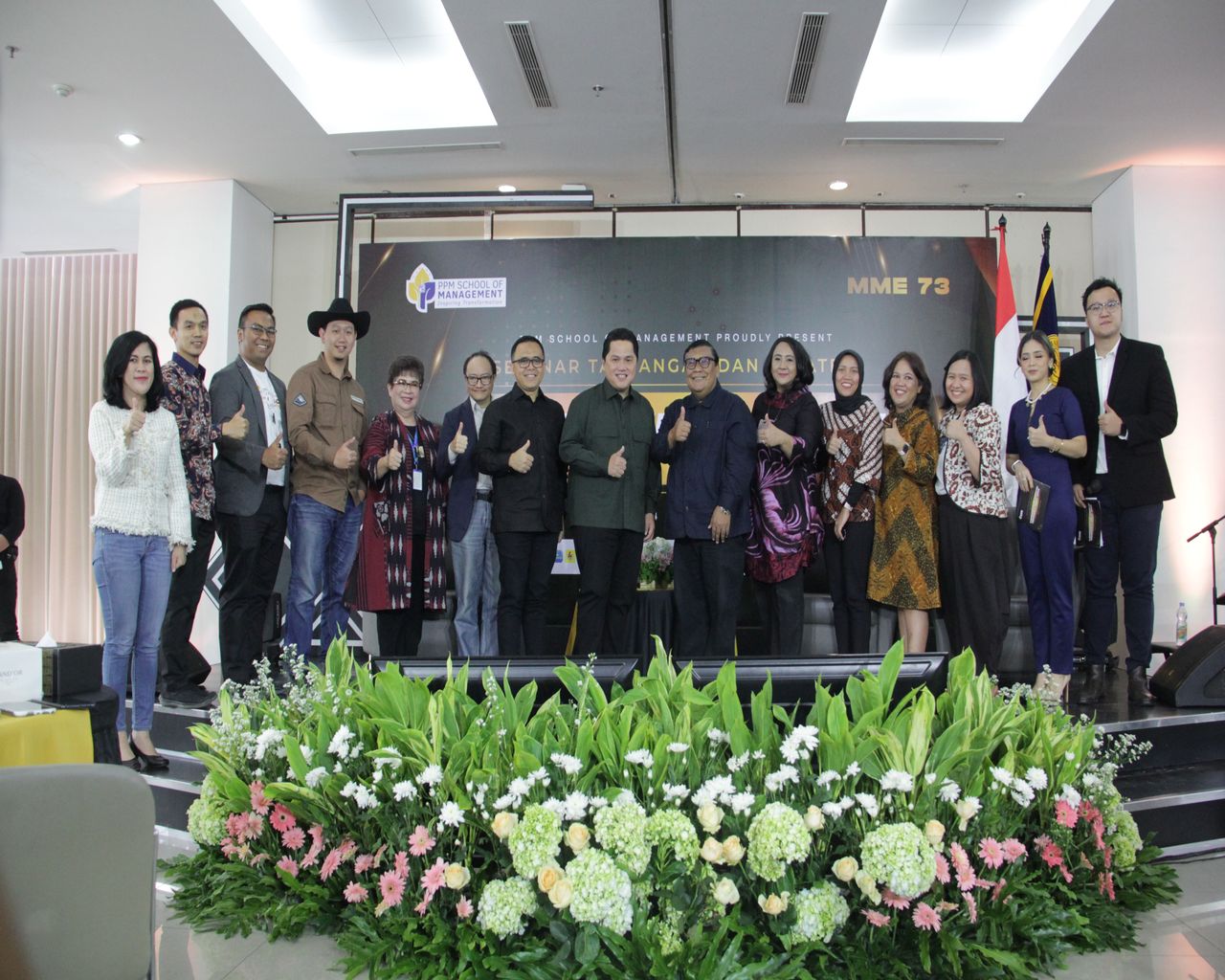 Erick Thohir & Abdullah Azwar Anas Berbagi Tips Memimpin di PPM Manajemen
Menteng (14/01), Program Magister Manajemen Eksekutif (MME) angkatan 73 PPM School of Management menggelar seminar kepemimpinan secara hybrid di ruang AM Kadarman lt. 2 Gedung Bina Manajemen B dengan mengangkat tema "Tantangan dan Strategi – Kepemimpinan Menuju Indonesia Maju 2045", yang dihadiri kurang lebih 1000 peserta dari berbagai perusahaan.
Dalam sambutannya, Plt Ketua Program Studi Magister Manajemen – Dr. Diyah Dumasari Siregar mengatakan, seminar ini merupakan bagian dari mata kuliah di PPM School of Management, yaitu pengembangan kepemimpinan. Adapun sasaran dari mata kuliah ini adalah mahasiswa/i diharapkan memahami konsep mengenai bagaimana menjadi pemimpin yang efektif, pemimpin yang harus mampu menginspirasi, mampu untuk menerima dorongan dan menantang anak buah untuk lebih berinovasi, oleh karena itu dalam seminar diwajibkan menghadirkan para pemimpin yang bisa memberikan banyak insight dan sharing gaya kepemimpinannya yang mencerminkan kepemimpinan efektif.
"Hari ini tentunya sangat bermanfaat bagi kita semua yang mungkin saat ini bapak dan ibu sekalian sudah atau akan menjadi pemimpin yang akan datang, semoga insight yang didapat pada hari ini mampu menginspirasi dan menyiapkan pemimpin untuk menghadapi Indonesia emas 2045, di mana Indonesia akan memasuki bonus demografi dengan jumlah usia produktif lebih banyak dibandingkan dengan usia non produktif." pungkas Ibu Duma dalam sambutannya.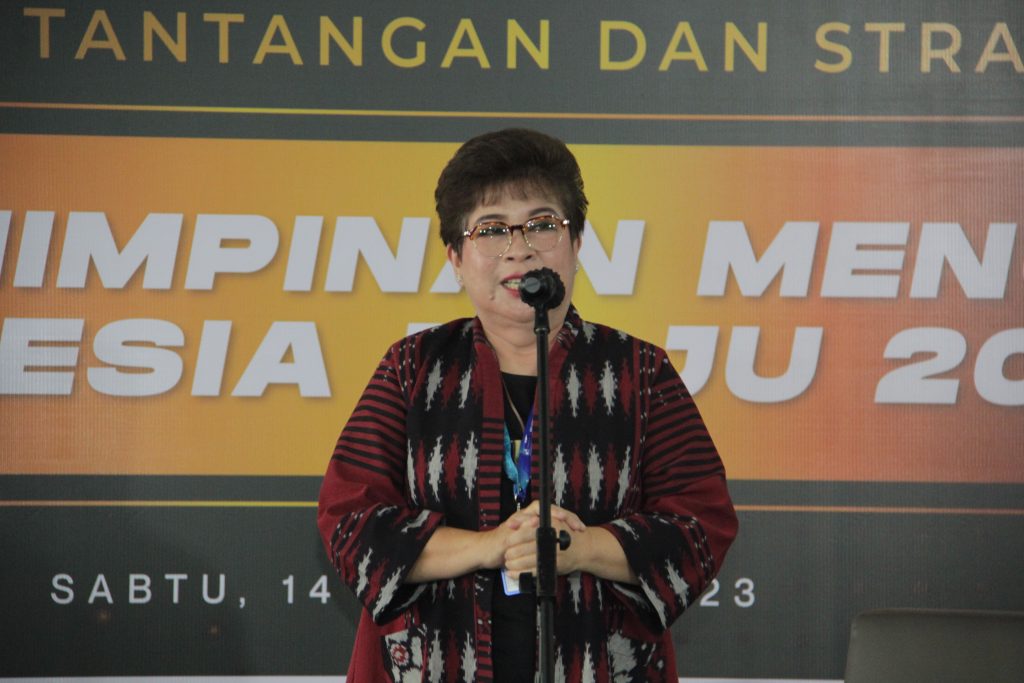 Pepey Riawati Kurnia, Ketua Sekolah Tinggi PPM Manajemen dalam sambutannya senada menyampaikan bahwa dalam seminar kali ini yang bertajuk "Tantangan dan Strategi – Kepemimpinan Menuju Indonesia Maju 2045" adalah bagian mata kuliah pengembangan kepemimpinan. "Saya melihat ini yang lumayan besar dan sangat menarik, semoga kita semua dapat membantu mendorong perkembangan, pemahaman, dan pengetahuan terkait dengan kepemimpinan yang tentunya memberikan pandangan lebih luas serta dapat mempersiapkan generasi mendatang untuk menjawab tantangan visi Indonesia 2045."
Semangat dari ini semua adalah, bahwa PPM SoM bisa memberikan inspirasi dan pengetahuan yang berharga bagi khalayak ramai, bukan saja bagi peserta program (mahasiswa), sehingga bisa diimplementasikan dalam kehidupan, alhasil menjadi kontribusi positif dari PPM SoM bagi Indonesia.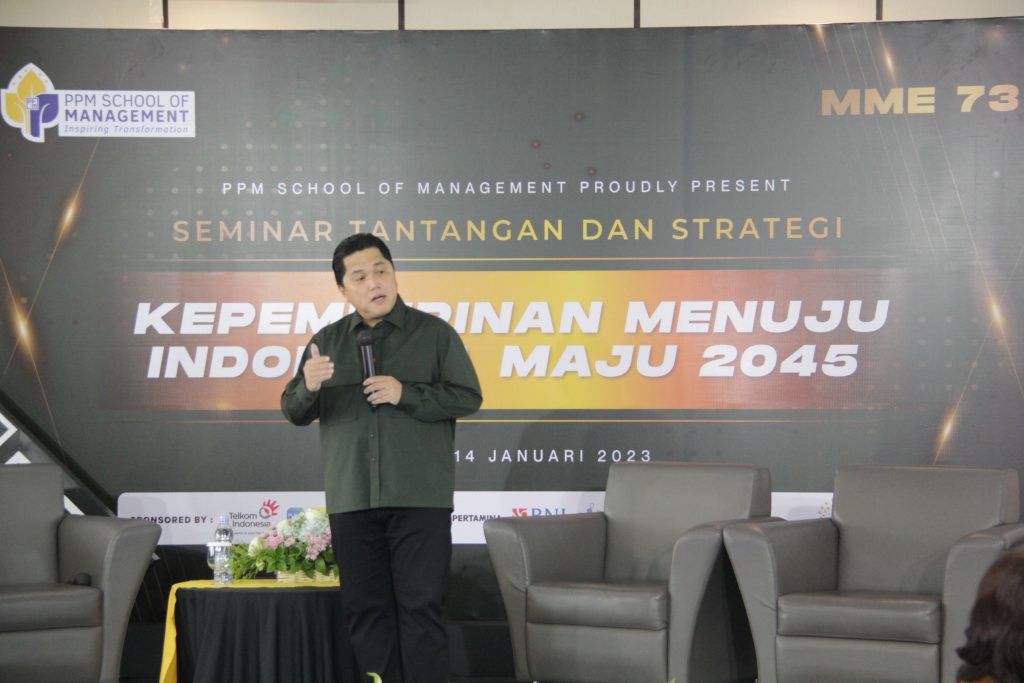 Seminar Tantangan dan Strategi – Kepemimpinan Menuju Indonesia Maju 2045 dibuka dengan Opening Speech Bapak Erick Thohir – Menteri Badan Usaha Milik Negara (BUMN), dalam kesempatan itu, ia menjabarkan banyak hal terkait potensi ekonomi Indonesia hingga dunia industri nasional dan global. Kontribusi ekonomi digital Indonesia diproyeksikan menjadi Rp4.531 triliun pada tahun 2030. Menurutnya, transformasi digital dan inovasi berkelanjutan menjadi parameter kunci bisnis berkelanjutan. "Kita perlu memanfaatkan potensi ekonomi digital Indonesia yang sangat besar," tegasnya.
Seminar kepemimpinan oleh mahasiswa MM Eksekutif PPM School of Management Angkatan 73 dikemas secara menarik dan dibagi ke dalam lima kelompok yang bertugas menghadirkan sosok pemimpin inspiratif sebagai pembicara lintas profesi versi kelompok mereka.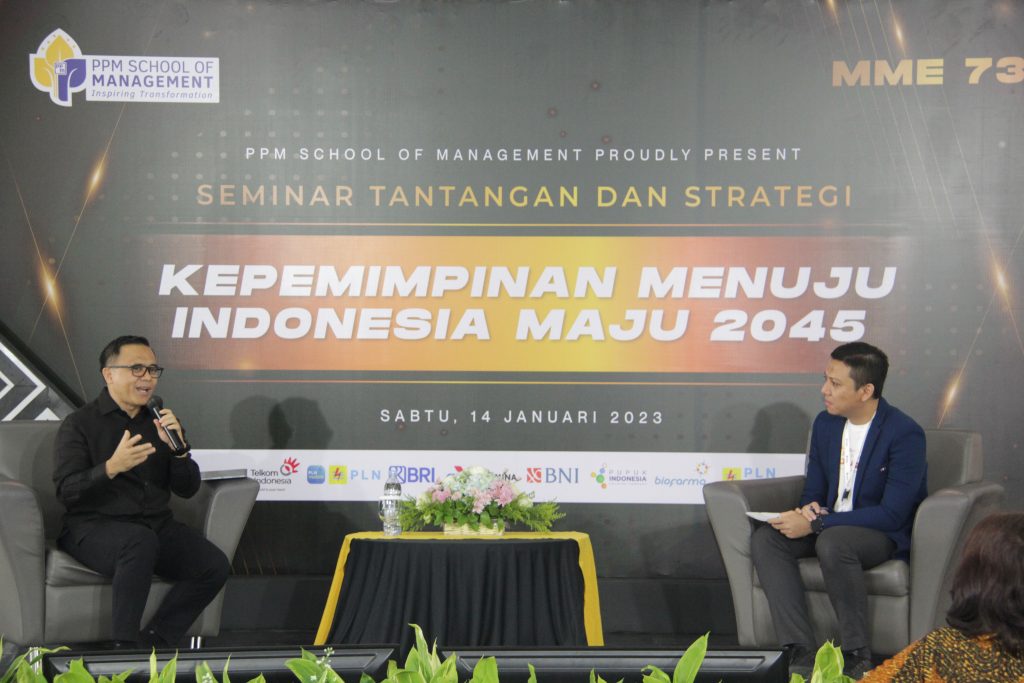 Hadir juga sebagai pembicara Bapak Abdullah Azwar Anas – Menteri Pendayagunaan Aparatur Negara dan Reformasi Birokrasi (PANRB); Bapak Septian Jasiah Wijaya – Founder Waluya Wijaya; Bapak Catur Budiharto – Wadirut Bank Rakyat Indonesia; – Bapak Soleh Ayubi – Chief Transformation & Digital Officer of Biofarma; Bapak Muhammad Fajrin Rasyid – Direktur Digital Bisnis PT Telkom.