EntreWeek 2022 "Adaptive & Digital Shifting Entrepreneur"
Jakarta, 14 Agustus 2022 – PPM School of Management Bahas Bagaimana Pebisnis Bisa Mendapatkan Partner Bisnis yang Sesuai dengan Kebutuhan. Seorang entrepreneur memiliki mimpi yang besar, namun sumber daya yang terbatas, sehingga harus ahli dalam memberdayakan sumber daya yang dimilikinya. Salah satunya dengan mendapatkan partner bisnis yang sesuai.
Pitching menjadi salah satu jalan ninja seorang entrepreneur untuk mendapatkankan dukungan mitra bisnis dalam rangka pengembangan usaha. Oleh karena itu, menguasai teknik pitching menjadi hal yang penting. Hal itu disampaikan oleh Plt. Ketua PPM School of Management Dr Pepey Riawati Kurnia, M.M., CPM, CAC, CODP dalam Webinar EntreWeek 2022.
Menurut Pepey, entrepreneurship menjadi topik yang hangat diperbincangkan. Di tahun 2021 rasio wirausaha di Indonesia masih sebesar 3,47 persen. Padahal, untuk menjadi negara maju setidaknya dibutuhkan minimal 4 persen dari proporsi jumlah penduduk. Dan Pemerintah Indonesia memberikan perhatian dan dukungan khusus untuk pengembangan wirausaha di Indonesia. Payung hukum yang mempermudah proses perizinan, penyediaan akses permodalan, serta berbagai program pengembangan wirausaha.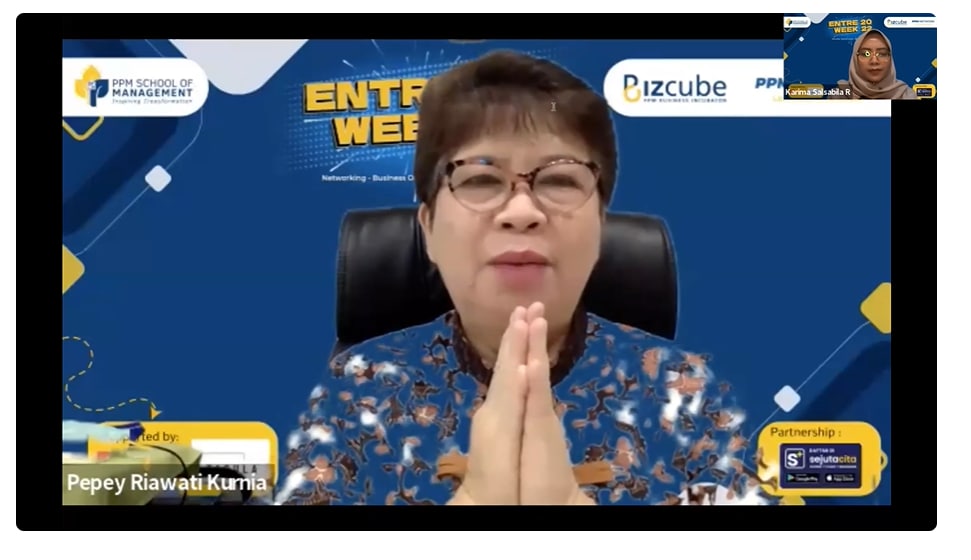 "PPM School of Management berpartisipasi aktif mendukung pengembangan entrepreneurship di Indonesia dengan menyediakan Inkubator Bisnis Bizcube bagi para mahasiswanya. Caranya dengan membangun ekosistem kewirausahaan di lingkungan kampus yang melibatkan seluruh pemangku kepentingan, seperti alumni, mahasiswa, dosen dan masyarakat. Inilah yang menjadi tujuan diselenggarakan acara EntreWeek ini supaya bisa menjadi wadah belajar networking, serta kolaborasi di lingkungan internal dan eksternal PPM School of Management," ujarnya mengawali sambutan webinar Entreweek 2022, (14/8/2022).
Pepey berharap, acara ini mempunyai manfaat dan dampak luas bagi semua peserta dan masyarakat. Terkait dengan pitching, Dr. Pinpin Bhaktiar, CPM (Asia) selaku Entrepreneurship Scientist dan Dosen PPM School of Management, menjelaskan bahwa ketika melakukan pitching harus meyakininya sebagai hal yang penting. Jangan jadikan hal tersebut menjadi hal yang mudah atau menganggap enteng. Pitching itu bukan hanya saat kita mencoba menarik dana investor.
"Saya harus tegaskan dari awal, jangan biarkan urusan dengan investor itu menjadi urusan receh. Jangan lembek, karena kemanjaan dan kemalasan. Kita butuh modal investor, kita butuh uang investor. Tapi kalau belum ada, ya nikmatilah masa bootstrapping (memulai bisnis tanpa dana dari eksternal). Jadi kejar masa bootstrapping itu," jelasnya menjawab pertanyaan peserta soal persaingan memenangkan pitching.
Dr. Pinpin juga menegaskan jika tidak mempunyai dana memadai haruslah dirumuskan. "Ada ruang-ruang yang mungkin sumber dayanya terbatas dan sebagainya, itu yang perlu dirumuskan. Namun wilayah-wilayah yang bisa dieksekusi harus dieksekusi dahulu. Jangan sampai saat kita pitching semuanya masih berupa ide," tegasnya mengingatkan.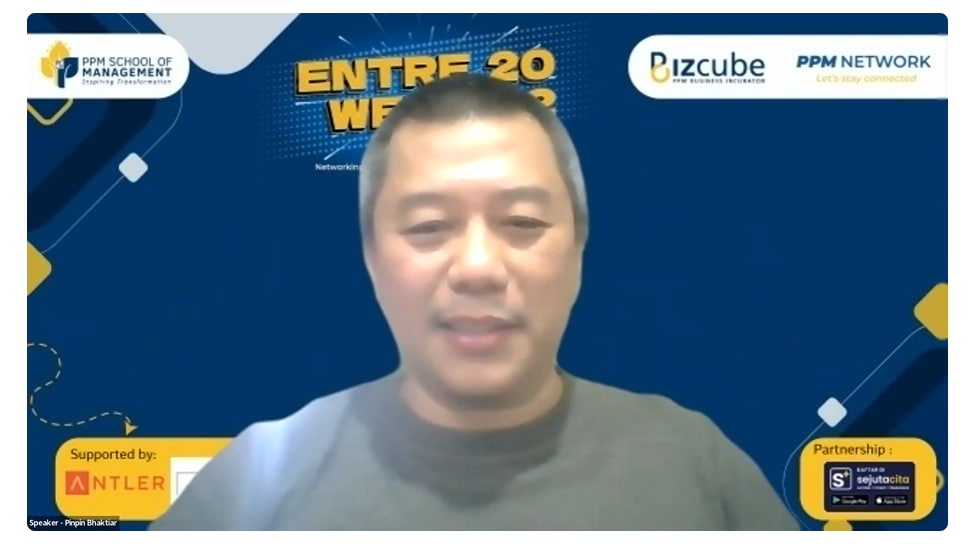 Sebagai informasi, gelaran kali ini selama dua hari. Acara hari pertama digelar secara on-site, Sabtu 13 Agustus 2022, diawali dengan sesi Insight Business Outlook yang dibawakan oleh Dr. Wahyu T. Setyobudi, M.M., ATP., CPM. Konsultan dan Peneliti Transformasi Strategik dan Inovasi PPM School of Management. Sesi ini memberikan wawasan dan pengetahuan seputar perkembangan dunia bisnis dengan topik pembahasan seputar bagaimana era digital akan mempengaruhi prospek bisnis di masa depan.
Kemudian, acara dilanjutkan dengan Speed Networking, yang mana peserta dipertemukan secara berpasangan dan acak untuk melakukan perkenalan dengan tujuan dapat membuka peluang kerja sama serta membangun relasi untuk mengembangkan bisnis kedepannya.
Sesi ketiga, Round Table Discussion merupakan kegiatan yang dirancang untuk mempertemukan peserta alumni dengan berbagai latar belakang industri bisnis.
Di hari kedua, selain webinar 'Land a Business Partner with Pitching', sekitar 250 peserta antusias mengikuti beberapa segmen acara lanjutan. Terdapat dua sesi talkshow lanjutan, yang pertama bersama dengan para alumni PPM School of Management yaitu Ayu Saptarika (entrepreneur writer & book author), Andrian Yulianto (Co-founder Aktivin) dan Veren Angelia (CEO PT Catat Buku Indonesia). Pada sesi ini, para alumni menceritakan tentang awal mula dalam mendirikan bisnis, mengatasi tantangan perubahan era digital hingga strategi yang dilakukan agar bisnis tetap bertahan dan berkembang.
Selanjutnya, di dalam sesi Digital Business Talkshow bersama Dama Aji (Program Team Antler) dan Arnold Lukito (Managing Partner Tabula) berpesan untuk para entrepreneur bahwa yang penting adalah kita perlu mulai saja dulu, karena prinsipnya 'start now, fail now, success later'.