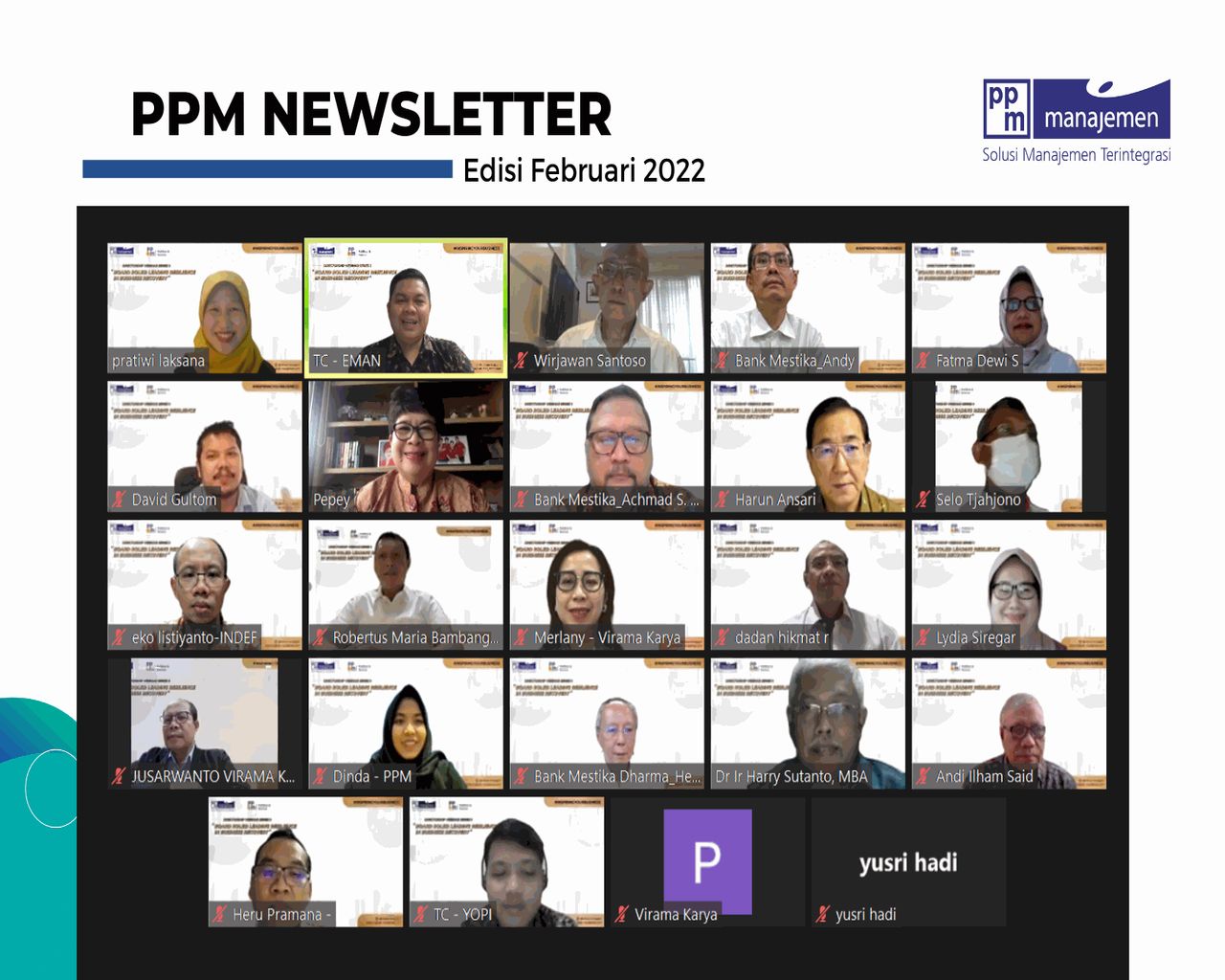 Directorship Webinar Series 1:"Board Roles: Leading Resilience In Business Recovery"
PPM Publikasi dan Seminar mengadakan program seminar Directorship webinar Series 1 (08/02) via Zoom Meeting dengan tema "Board Roles: Leading Resilience In Business Recovery", acara ini dihadiri kurang lebih 18 peserta level Direksi dari berbagai perusahaan.
Directorship Webinar Series 1 dibuka oleh Pepey Riawati Kurnia selaku Direktur Jasa Pengembangan Eksekutif PPM Manajemen, yang dalam sambutannya mengatakan di tahun 2022 bahwa kita semua berharap bisnis mengalami percepatan pemulihan dari setiap sektor industri. Di kesempatan itu juga beliau mengatakan "bagaimana sih menjadi Direktur yang baik? yaitu Direktur yang memiliki visi ke depan, juga mampu menginspirasi, mempunyai komunikasi yang baik, berani dan selalu menjadi karakteristik tidak meng-copy dari orang lain."
Masih menurut Pepey, tentunya di sini (Directorship Webinar Series -red) tidak hanya mendapatkan pengetahuan namun juga jejaring antar sesama peserta dan setelah menjalin jejaring, bisa lanjut berkolaborasi dengan segala kemungkinan peluang-peluang yang ada di masing-masing peserta, sehingga bisa saling menguatkan dan saling menumbuhkan rasa saling membutuhkan.
Berbeda pada tahun sebelumnya, acara kali ini terdiri dari tiga sesi dan menghadirkan tiga pembicara, mereka adalah Eko Listiyanto, MSE – Deputy Director INDEF (Institute for Development of Economics and Finance); Andi Ilham Said, Ir., M.S.O.M., Ph.D. – Kepala Pusat Kajian dan Pengembangan Produk PPM Manajemen; dan Dr. Ir. H. Harry Sutanto, MBA. – Lecture, Consultant and Trainer. Acaranya sendiri dimoderatori oleh Pratiwi, Konsultan dari PPM Manajemen.
Dengan digelarnya seminar ini, semangatnya para peserta bisa mendapatkan pandangan kondisi bisnis di tahun 2022, memahami peranan Direktur dalam business recovery, mendapatkan pandangan pengembangan rencana strategi business recovery, memahami faktor-faktor yang dapat mempengaruhi kesuksesan sebuah rencana strategi business recovery dan cara mengatasinya, serta memahami cara memimpin perubahan untuk memastikan sistem dan proses tetap berjalan demi keberlangsungan bisnis di tengah kedinamisan dunia bisnis itu sendiri.